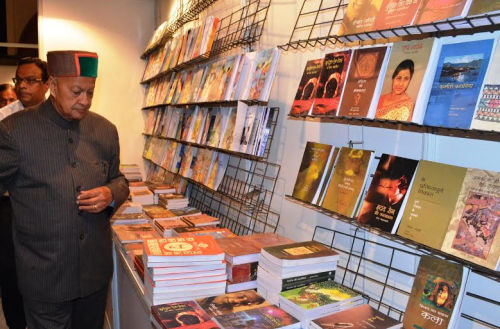 Shimla: Chief Minister Virbhadra Singh inaugurated a week long Book Fair organized by National Book Trust (NBT) of India in collaboration with Himachal Academy of Art, Language and Culture here today.
While speaking at the occasion, Singh advised publishing houses to adopt new technology to tape younger generation and suggested them to make good use of e-books. CM said that we need to keep pace with today's tech-savvy generation so as to match them. He also stressed upon to develop habit of reading among children. He said
literature is always ever fresh and we should inculcate the habit of reading in our children also. Knowledge and views are to share and disseminate, the more you give the more will you achieve
Chief Minister said that Himachal has many writers, scholars, poets, editors, critics etc and the Government would make sincere efforts to extend all possible help to them. He said our state provides a serene environment to the scholars and litterateurs and urged the Department of Language Art and Culture to revive and renovate the 'Writers Home' situated in the State so that better facilities could be provided to them.
He also lauded the efforts of the local writer Raja Bhasin for his many books he had written and published and said that I hope this practice would be continued. He also appreciated the work of Neeta Aggarwal for her book 'Nari Vyatha Avem Anayaye Kavitayein', which the CM released on the occasion.
The Chief Minister also released the Book titled 'Flowerswood Hotel' authored by Raja Bhasin besides releasing the books and monograph on Manali and Nirmand published by HP Academy of Art, Culture and Language.
The Chief Minister stressed upon holding such book fairs annually in the State. He also evinced keen interest in exhibition and appreciated the collection of books displayed for sale. The Chief Minister directed the Education department to purchase books of Rs. 10 lakh from the book fair.
Om Thanvi, Editor Jansatta also spoke on the occasion and congratulated NBT for organizing this fair and said that this publishing house provides a wide range of books based on different subjects containing value based knowledge.
Raji Seth renowned writer and litterateur said that she was indebted to people of Himachal Pradesh for support and affection they gave her during her early days in Shimla which made her to write. She said that books are the best friends which gives more and demands nothing.
Director H.P. Academy Art, Language and Culture, Arun Kumar Sharma in his address said that this was the second book fair organized in Himachal, the first being at Mandi. He assured to organize more such book fairs in times to come.
Director, NBT, Dr. M.A Sikandar welcomed the Chief Minister and said that he developed the reading habit at quite early stage of his life and he came to know about the historic Gaiety Theatre of British era and the Shimla hill town through many books he studied. He said that as many as 40 stalls were set by NBT for promotion of book centers in Gaiety Theatre.
Dr. Mahapatra, Editor of NBT Centre of Children Literature proposed vote of thanks. Mayor Shimla Sanjay Chauhan, Deputy Mayor Tikender Panwar, Deputy Commissioner Shimla Dinesh Malhotra, SP Shimla D.W. Negi were present on the occasion amongst scholar, historians, poets and writers.