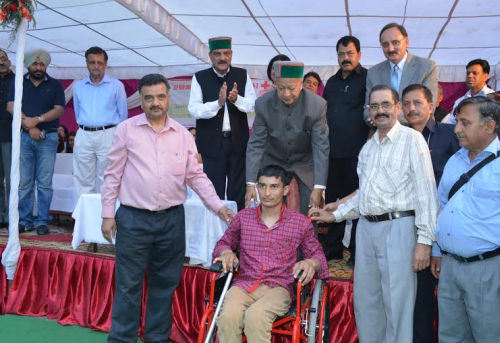 Chief Minister Virbhadra Singh said that Red Cross Society was rendering valuable services to the society by engaging in activities like providing relief to the poor and needy people besides extending immediate help to those injured in accidents or affected by some natural disaster. He said that all District Red Cross branches in the State were also doing commendable work in the service of suffering humanity and there was need to extend the activities of the Society.
Virbhadra Singh was speaking on the occasion of closing ceremony of annual Red Cross fair organized today at the Ridge, Shimla by H.P. Red Cross Hospital Welfare Society.
He said that such fairs were important platform to educate and motivate masses about the role and activities of Red Cross. He said that such occasion also help in generating funds for the treatment and financial assistance of the poor and needy persons. He gave a clarion call to the people to become members of Red Cross for helping the people in a need and distress. He said that Red Cross was oldest organization which was working for the service of suffering humanity.
Chief Minister said that the State Government was running schools in the State for the special children. He said that various NGOs were supplementing the efforts of State Government and efforts would be to streamline these NGOs.
He also took round of the stalls set up by various Government Departments and NGOs. He distributed wheel chair to Brij Mohan, a resident of Chopal and hearing aid to 20 students of Deaf and Dumb School, Dhalli.
Feroza Vijay Singh, Vice Chairperson, H.P. Red Cross Society welcomed the Chief Minister.
Nand Lal, Chief Parliamentary Secretary, Yashwant Chhajta, Vice Chairman, HIMUDA, Baba Hardeep Singh, Chairman, H.P Buildings and Other Construction Workers Welfare Board, T.G. Negi, Advisor to the Chief Minister, Balbir Tegta, Chairman, H.P. Board of School Education, Anita Tegta, Secretary to the Governor, S.R. Mardi, Additional DGP, Dinesh Malhotra, Deputy Commissioner, Amarjeet Singh, Commissioner, MC Shimla, Dr. Ramesh Chand, Senior Medical Superintendent, IGMC, Shimla, Dilip Kanwar, CMO, Shimla, Members of various NGOs and prominent persons of the town were present on the occasion.