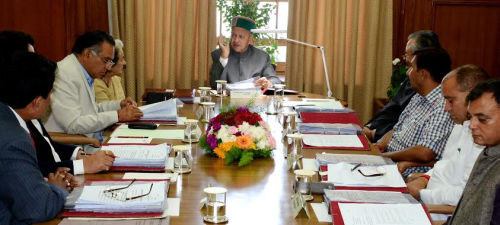 The Himachal Pradesh cabinet, in its meeting under Chief Minister Virbhadra Singh, has decided to made a uniform policy for one time settlement of approving the lease to all the under construction and existing hydro power projects pending with the Government and the concerned Deputy Commissioners for which the Union forest and Environment Ministry and the State Forest Department has granted approval for diversion of forest land before 31.12.2012.
The Deputy Commissioners concerned have been directed for approving the lease in favour of the concerned construction companies and projects and get deposited the Net Present Value (NPV) amount from the date the Government land was being used and the then lease norms prevalent by recovering the outstanding amount from them within three months and grant lease thereof.
The Cabinet approved restoration of 2 MW Gehra State hydro electricity project in district Chamba to M/S Gehra hydel power project in district Chamba.
The Cabinet recommended change of location/elevation of Nugal, Sup, Dogar, Chho, Shahtul, Kattan, Maila, Dheera, Balota and Dheera-Balota-I, Pharari and Dukren hydro power projects of less than 5 MW capacity for enhancement of its capacity.
The Cabinet also accorded approval to sign power purchase agreement with SJVN.
It was decided to rescind the policy framed for selection of Lecturers on tenure basis in H.P Government Dental College and Hospital, Shimla.
The cabinet also gave nod to transfer government land on nominal cost in favour of Geological Survey of India for construction of Training Institute Complex at Shiwalik Fossil Park at Saketi in district Sirmaur. Besides, approval was also given to transfer 2.01 bighas of forest land for constructing road from Kumarhatti Solan bypass to Maharishi Markandweshwar Campus.
A decision was taken to exempt felling of paper mulberry, Kachnar, Safeda, Oei, Kimu, chimu, shahtoot grown on private land from the requirement of transit passes.
The Cabinet approved to enhance the income limit of low income groups to Rs. 35,000 from Rs. 12,000 per annum including part time water carriers in the education department for producing the income certificate for their appointment.
It decided to rename and implement the newly approved "Polyhouse Project on Production of Vegetables under Protective Cultivation" by NABARD as "Dr. Y.S Parmar Swarozgar Yojana".
The Cabinet also decided to provide 'Protsahan Rashi' to the Himachali students getting admissions in ISM, Dhanbad at Jharkand and Indian Institute of Science, Banglore.
It also decided to enhance rehabilitation assistance to the inmates of State Home, Bal/Balika Ashrams and revision of consumable items being provided to Nari Sewa Sada under Mukhya Mantri Bal Udhhar Yojana from Rs. 10,000 to Rs. 20,000 for setting up their own trades/business.
It also approved to increase the annuity of Sena/Nau Sena/Vayu Sena Medal and "Mention in dispatch" from Rs. 3000 to Rs. 5000 per annum and increase in annuity to the winners of Sarvottam Yudh Sewa Medal/ Uttam Yudh Sewa Medal/ Yudh Sewa Medal/ Vashisht Sewa Medal from Rs. 3000 to Rs. 4000 per annum with effect from 1st April, 2014.
The Cabinet approved to increase number of seats of BAMS in Rajiv Gandhi Government Post Graduate Ayurvedic College, Paprola from 50 to 60.
In order to provide remunerative prices to fruit growers and save them from exploitation in the markets, the Cabinet approved procurement price for mangoes from Rs. 5.50 to Rs. 6.50 per kg. under Market Intervention Scheme and the procurement of fruits would be done by HPMC and HIMFED in crates and will be allowed handling charges of Rs. 1.30 per kg. It also approved setting up of 34 fruit collection centers under MIS.
It was also decided to provide 9705.033 metric tonne of apples free of cost for extracting juice to processing units of HPMC under Market Intervention Scheme, 2013.
The Cabinet decided to get approved the H.P Tax on Luxuries (in Hotels and Lodging Houses) Amendment Bill so as to exempt new hotels in rural areas from payment of luxury tax under for a period of ten years from the date the hotel starts functioning.
Staffing norms were approved and nod was given for creation of posts for various administrative units right from Sub-Divisions to Tehsil and Sub-Tehsil level for smooth functioning of revenue administration.
The Cabinet decided to fix the transportation rates of supply of cement to the government departments and semi-government organizations at Rs. 7.75 per kilometer per tonne.
The Cabinet also approved to open Primary Health Centres (PHC) at Seri-Bunglow, Mahog and Bagsha in Karsog assembly segment of District Mandi along with Nine posts of various categories for these PHC. This would benefit around 54 thousand population of the area.
One post each of Associate Professor and Assistant Professor would be created in the department of Radiotherapy and Oncology in IGMC, Shimla.
It gave nod for the proposal regarding extension of limits of Sarahan Special Area to ensure planned and controlled development along the roads and various other growth pockets under the ambit of H.P town & Country Planning Act by including some parts of revenue Mohal Sarahan Kanai and Bonda.
The approval was also given to open Primary Health Centre (PHC) in Tungla, GP Banantar in Churah Tehsil of Chamba district along-with creation of one post each of Medical Officer, Pharmacist and class-IV.
The decision was taken for opening PHC's at Pandoh and Karkoh in district Mandi along-with creation of two posts each of Medical officers and Pharmacists and two posts of class-IV. The Cabinet also up-graded PHC Taklech in Shimla district to Community Health Centre.
It gave its nod for creation of post of Junior Cameraman on contract basis in Information & Public Relations department, beside filling up the post of preservation Assistant in Bhuri Singh Museum, Chamba.
It was decided to include the posts of Subordinate Accounts Services SAS (OB) cadre in different departments/Boards and Corporations to be included in the R&P Rules of respective categories of SAS and to fix their cadre strength at 219.
The Cabinet approved to appoint 100 hundred Veterinary Pharmacists and 20 Junior Officer Assistants in place of Clerks in the Animal Husbandry department on contractual basis.
It gave its nod to upgrade Veterinary Dispensary Saletar in GP Dhaniyara and at Beed in GP Beed Tungal and to fill one post each of Veterinary Officer and Attendant on contract basis.
The decision was taken for the creation and filling up of 21 posts for District Legal Services Authorities.
The approval was granted for creation and filling up of 40 posts of computer operators in State Accounts & Treasury Department.
It decided to fill up 20 vacant posts of Stenographers on contract basis in department of Excise and Taxation.
The decision was taken to fill up vacant posts of Mining Guards, Class-IV in relaxation of ban on direct recruitment to check illegal extraction and transportation of minerals in the State.
It was decided to fill 100 posts of Agriculture Extension Officers in the year 2014-15 and 50 posts in 2015-16 on contract basis on consolidated fixed remuneration of rupees 8310/- per month. The 50 percent posts shall be filled through HP State Sub-ordinate Staff Selection Board Hamirpur and 50% batchwise.
It decided to upgrade the post of Law Officer to Assistant Director (Legal) in the Agriculture department.
The approval was accorded to fill up 75 posts of Clerks and Junior Assistants in the Himachal Pradesh Forest Department on contract basis.
It also approved creation of 37 posts in Excise & Taxation department which includes 16 posts of Excise and Taxation officers, seven of Excise Inspectors, seven posts of Steno Typist.
Approval was given for premature release/mercy petition cases of 15 jail inmates lodged in various prisons of the State.
Cabinet also granted approval in favour of SWAKAR School of Nursing in Sarkaghat in Mandi district for issuance of essentiality and feasibility certificate/No Objection Certificate to open GNM training institute with an annual intake of 40 students.