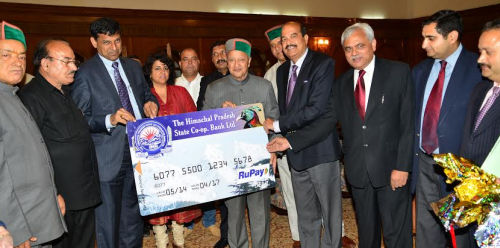 The HP State Cooperative Bank became the first Cooperative Bank of the Country to have its own 'RuPay' ATM-cum-Debit Card.
Chief Minister Virbhadra Singh launched ATM-cum- Debit Card of Himachal Pradesh State Cooperative Bank in presence of Governor, Reserve Bank of India Dr. Raghuram Rajan at Peterhof here today.
Virbhadra Singh and Governor RBI congratulated the Bank for launching ATM-cum-Debit card and being first in the country in Cooperative Bank Sector to have such Card.
Chairman HP State Cooperative Bank Harsh Mahajan apprised that the HP State Cooperative Bank is a leading bank amongst Cooperative Banks having customers base of nearly 13 lakh in six districts of the State. He said that it is an Apex Bank with a net work of 190 Branches and 17 Extension Counter in the most remote areas of the State. He further stated that the Bank has the unique distinction of being the first, and as of now the only Cooperative Bank in the Country to have all its Branches on Core Banking Solutions (CBS) mode.
Mahajan informed that HP State Cooperative Bank was also providing Real Time Gross Settlement (RTGS)/National Electronic Funds Transfer (NEFT) facilities through all its Branches in remotest areas of the State. He said that the Bank has its own network of 43 Automated Teller Machines (ATMs) which are also on National Financial Switch thus allowing its customer's access to the ATMs of other Banks too.
Managing Director HP State Cooperative Bank Amit Kashyap, IAS and other senior officers of the Bank were present on the occasion.