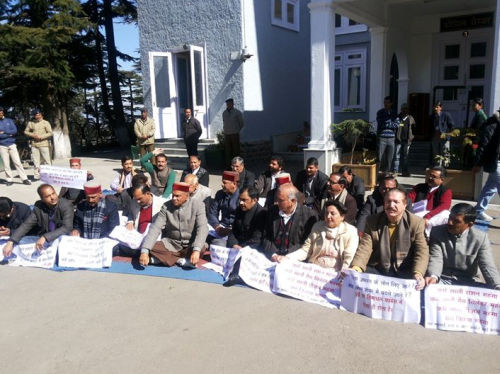 Opposition BJP staged a protest at Himachal Pradesh Vidhan Sabha premises and asked Chief Minister to apologies for their reported remarks against them and clarifies his position over the graft charges levelled against him.
All BJP legislatures including Leader of Opposition Prem Kumar Dhumal sit on dharna on the gate of Vidhan Sabha gate and raised slogan against government and Chief Minister Virbhadra Singh.
Later speaking to the media, Leader of opposition Prem Kumar Dhumal said that Chief Minister Virbhadra Singh has used unparliamentarily language for opposition members and even didn't feel appropriate to regret over his action. He stated that the Govt even hasn't taken any initiative to break the deadlock.
Dhumal slammed Congress and Chief Minister for misleading people by issuing vague statements. He said that BJP don't want boycott the house, but it was Govt's persistence, which keeping opposition away from the session.
Responding to the media query of gathering in Narender Modi 'Parivartan Rally' at Sujanpur, Dhumal said that BJP need no certificate from Congress Party. He termed the 'Parivartan Rally' unprecedented and even crore of people witnesses it on TV. He, however, also accused some police personnel for creating unnecessary chaos at the rally.