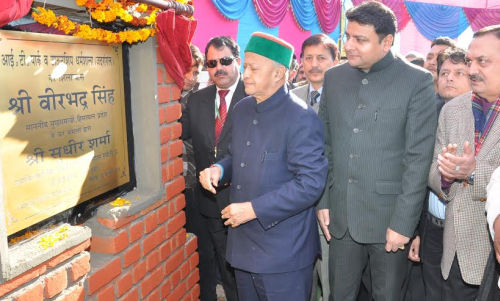 The Chief Minister Virbhadra Singh laid foundation stone of I.T Park and I.T Township at Jadrangal near Dharamshala. He termed it as yet another initiative of the State Government to create self-employment and employment opportunities in various parts of the State for educated youth by creating a congenial investment climate.
Virbhadra Singh said that IT industry had been accorded a thrust status in State's Industrial Policy as it was most suited to the local environs of the State. It was pollution free, creates significant value and could significantly contribute in revenue generation. Setting up this IT park will enable single window facilitation or for the IT related Industries in the State e.g. It hardware, IT Enabled Services, IT Services, E-Business etc.
Virbhadra Singh said that the State already had basic infrastructure to support such industries like High-Speed Data Communication (HSDC) facilities in the State for use by the IT Industry. A Software Technology Park had already been set up in Shimla by which was already supporting incubation centres and providing core infrastructure and plug and operates facilities to new entrepreneurs in the field of Software generation, and other related IT enabled services.
The Chief Minister said that in order to promote the growth of IT all over the State, the efforts would be made to build hi-tech habitats in and around all major towns. The State Government would also endeavour to set up hi-tech habitats at Shimla, Solan, Hamirpur, Baddi, Parwanoo, Kullu, Mandi and Dharamshala in a phased manner.
He said that by setting up of this IT park the State Government intends to actively encourage and support manufacturing of IT hardware, software and software by prospective entrepreneurs. This park would offer the necessary infrastructure in terms of approach road, power and water and high tech infrastructure to facilitate communication and connectivity.
Urban Development Minister Sudhir Sharma, Block Congress Committee President Surender Pappi, Director, Industries, Rajender Singh, Deputy Commissioner C. Palrasu, Chairman, H.P Education Board, Balbeer Tegta were also present on the occasion.