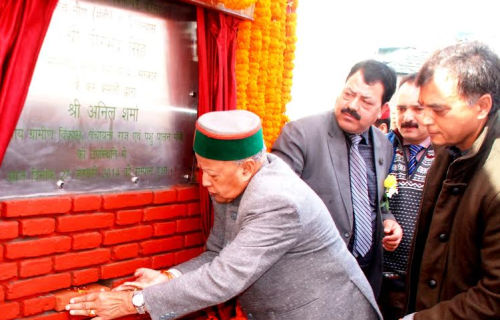 Chief Minister Virbhadra Singh today dedicated Tehsil at Kotli in Mandi assembly constituency to the people of the area. He also laid foundation stones of various developmental projects in the area.
The Chief Minister laid foundation stone of bus stand at Kotli which was a long pending demand of the people of the area. The bus stand would be constructed at a cost of Rs. 317 lakh and it would have various facilities including parking lot. He also dedicated Lift Water Supply Scheme for Jaral-Kotli Dadihar which has been completed by spending Rs. 124.49 lakh. This scheme would benefit around 4700 people of Kotli, Bhargaon and Dawahan villages.
He laid foundation stones of two Parking-cum-Commercial complexes at Mandi town to be constructed in Public Private Partnership mode under BOT. These complexes would go a long way in solving the parking problem in the town. One Parking–cum-commercial complex would be developed at Janchu-Ka-Naun by spending Rs. 35 crore having provision for parking of 200 cars. It will also have commercial area spread over 8484 square meter area. The another complex would be developed near Jail road at an estimated cost of Rs. 40 crore and it would have parking facility for 225 cars along-with commercial area on 9600 square meter area. Deputy Commissioner, Mandi had been authorized to decide the parking charges and the developer will pay Rs.65.27 lakh per annum to the district administration after completion of both complexes. The developer will pay an upfront amount of Rs.2.5 crore to the district administration and he will also provide 15,000 square feet area in the proposed complexes free of cost. This way the both complexes along-with commercial complexes will have total capacity of parking facility for around 600 cars.
Later, addressing public meeting at Kotli, Chief Minister announced to open ITI and Police Chowki at Kotli. He also announced Primary Health Centres for Pandoh and Karkoh and veterinary dispensaries for Saletar and Bir.
He announced to upgrade Government Primary Schools Sojha, Dhar, Nichla Lot and Chadyana to Middle schools and Baggi (Tungal), Sadyan, Barhi-Gumanu and Talyahar High Schools to Government Senior Secondary Schools.
Virbhadra Singh said that Government was committed to open educational institutes as per the requirement of the students. He appealed to the people to make demand for the schools based on fixed norms and parameters including strength of the students. He said that relaxation could be given in set parameters for opening of schools in hard and far-flung areas of the State keeping in view their tough topographical conditions.
Rural Development and Panchayati Raj Minister Anil Sharma said that the pace of development had been accelerated during the regime of present State Government and various milestones of development had already been established. He said that Tungal area remained neglected during the period of previous BJP Government. He thanked the Chief Minister for acceding to the demand of the people of the area for opening Police Post at Kotli. He said that the parking problem of the town would be solved with the construction two parking complexes. He also thanked the Chief Minister for laying foundation stone of Bus Stand and dedicating Lift Water Supply Scheme.
Prakash Chaudhary, Excise and Taxation Minister, was also present on the occasion among others.