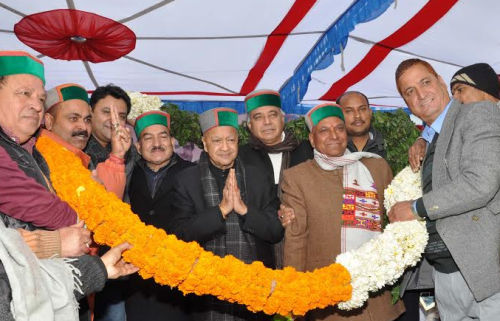 Baijnath: Chief Minister Virbhadra Singh said that State Government was committed for equal and balance development of the State. He said that his Government didn't believe in discrimination and all areas were being given equal priority for development. Chief Minister was speaking during a public meeting at Mela Ground Baijnath in Kangra district today.
Virbhadra Singh said that many offices were shifted to Dharamshala from Shimla during his earlier tenure which included Himachal Pradesh School Education Board and Himachal Pradesh Technical Education Board. He said that Chief Engineer Electricity, PWD, I&PH offices were also been opened at Dharamshala and due to concerted efforts of Congress Government, the Central University has also opened in Kangra district with its headquarter at Dharamshala. Besides Dr. Rajendra Prasad Government Medical College Tanda was also set up during his previous tenure to provide better health services to the people of the area.
Chief Minister said that practice of winter sojourn in lower areas was started by him. Besides, Vidhan Sabha building was also constructed at Tapovan near Dharamshala during his previous tenure. He said that since many days, he was touring Una, Kangra and Hamirpur districts and other areas of lower Himachal to know and resolve the grievances of the people at their door steps and to speed up the ongoing developmental works.
Virbhadra Singh said that the Congress Government believes in unity and diversity and no body could divide us on the narrow lines of religion, region and language. He said that some people want to divide the people of the State to gain political mileage and to fulfill their selfish motives.
He said that he was elected as MP from Mandi Parliamentary Constituency and Baijnath was the part of Mandi Parliamentary Constituency at that time. He said that he had extensively toured all the areas in Baijnath which was once deprived off roads, schools and other basic amenities, adding that due to efforts of successive Congress Governments and former Minister late Sant Ram rapid development of the area was witnessed and at present the Baijnath area had a Degree College, Civil Hospital, Roads, Schools and all other facilities.
On the occasion, Chief Minister announced to open Sub Tehsil at Chadhiar, starting Science classes at Government Senior Secondary School Chadhiar and Sansal and Postgraduate classes in two subjects at late Pt. Sant Ram Government College Baijnath. He said that the Government could consider reopening carton factory at Baijnath after seeking technical advice from the experts. He announced to upgrade Government High School Chaleda to Senior Secondary School, upgrading 50 bedded Civil Hospital Baijnath to 60 bedded, opening two Police Posts at Chadhiar and Multhan.
He said that Government would give Nagar Panchayat status to Baijnath and Paprola Panchayat if the people of the area agree. He also announced to construct Science Block and new Block at Government Senior Secondary School Bhulana, upgrade Government Middle School Jandpur, Sagoor, Ustehar and Rajot to High Schools.
Earlier, Chief Minister visited Mata Chamunda Devi temple and performed pooja. He also inaugurated Primary Health Centre Building Sakri constructed at a cost of Rs, 74 lakh and performed the foundation stone ceremony of Primary Health Centre Naghed to be constructed at a cost of Rs. 42.78 lakh.
MLA Kishori Lal Thanked the Chief Minister to visit his area and said that all developmental works in Baijnath area had been carried out during the tenure of Congress Government and former Minister late Pt. Sant Ram. He urged the Chief Minister to direct the authorities to take appropriate action to stop the soil erosion and land sliding in the area adjoining the Baijnath Shiv Temple.
He said that during the tenure of previous BJP Government there was only one doctor posted at Civil Hospital Baijnath and the present Congress Government had filled up all the vacant posts of Doctors in the hospital. He urged the Chief Minister to take effective steps for solving the problems of stray animals and monkey menace in the area.
President Block Congress Committee Baijnath Captain Jagdish Rana welcomed the Chief Minister,
Health and Family Welfare Minister Kaul Singh Thakur, Transport Minister G.S. Bali, Urban Development Minister Sudhir Sharma, Chairman Kangra Central Cooperative Bank Jagdish Sipahiya, Chairman Himachal Pradesh Board of School Education Balbir Tegta, Deputy Commissioner Kangra C. Palrasu, S.P. Balbir Thakur, CMO Dr. D.S. Gurang and prominent people of the area were also present on the occasion.
Later, Chief Minister inaugurated Parwati Girls Hostel at CSK Agriculture University Palampur constructed at a cost of Rs. two crore. It has facility to house 56 girls.
Vice-Chancellor CSK Agriculture University Palampur Dr. K.K. Katoch and Teaching and Non-Teaching Staff of University were presented a cheque of Rs. 10,80,000 towards Chief Minister Fund to the Chief Minister.