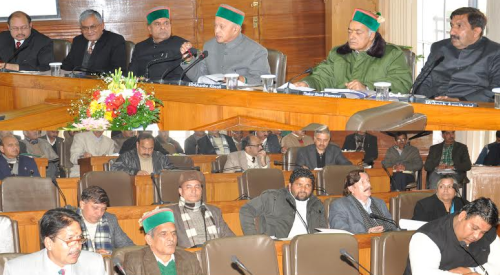 Chief Minister Virbhadra Singh has directed the Administrative Secretaries and Heads of Departments to address the different issues taken up by the public representatives besides considering their valuable suggestions on priority . He said that Detailed Project Reports (DPRs) of various projects should be completed in time bound manner and strict action would be taken against erring officers. Chief Minister was addressing the meetings of MLAs of Kangra, Lahaul-Spiti, Kinnaur and Kullu districts to fix the priorities of Annual Plan for 2014-15 here today.
He said that the matter of outsourcing the work of preparing DPRs should be decided well in time and forest clearances cases should be taken on priority adding that no negligence in this regard would be tolerated.
Chief Minister said that providing best road facilities to the people of the State was top priority and directed the PWD authorities for regular maintenance of the roads so that commuters do not face any inconvenience. He said that Damtal-Kandrauri-Indora road would be repaired and maintained keeping in view heavy vehicular traffic in the area.
He said that local MLAs should be consulted before constructing and planning of roads in their areas so that the demands of the people could be considered on priority basis. He said that ample employment opportunities should be given to local people in the area where the industries were being set up.
Virbhadra Singh said that State Government was ensuring speedy and balanced development of all areas of the State without any political considerations however priority being given to remote and far-flung areas.. He said that roads, irrigation and drinking water were the main focus of the MLAs priorities and concerned departments should work expeditiously on the priority schemes. He said that in order to provide efficient and transparent services, Rangers, Deputy Rangers and Forest Guards in Forest Department and Constable in Police Department should not be deployed in their home beats.
He said that the State Government was committed to provide fair, transparent and responsive administration to the people of the State by adopting zero tolerance towards corruption. He said that the State Government had performed well during last one year tenure and the State had been adjudged as the Best State in investment and health sectors in the category of big States in the State of States Conclave-2013.
Virbhadra Singh said that monkey menace has become a serious problem in the State and has to be tackled with multi-pronged strategy on priority. He said that their natural habitat must be maintained and fruit species should be planted in forests so that monkeys may get sufficient in their natural environ. He said that efforts should be made to maintain natural flora and fauna in natural habitat.
He stressed for better coordination among various departments so that people could get facilities at the earliest. He said that interstate matters pertaining to roads, demarcation of boundaries, water disputes etc. must be solved on priority to save people from undue harassment. He directed the officers to hold talks with their counterparts of other states and GoI so that disputes may be settled amicably. He said that sufficient posts of Surveyors in PWD and I&PH Department would be filled and their present strength would be rationalized. It will help in timely preparation of Detailed Project Reports.
Chief Minister said that 100-bedded hospital would be opened in Jaisinghpur assembly constituency at Jaisinghpur . He said that a Government Degree College would be opened at Khundiyan in Jwalamukhi assembly constituency. He directed the officers to prepare a project for checking the problem of soil erosion near Shiv Temple Baijnath in district Kangra.
In the meeting Ajay Mahajan, MLA from Nurpur requested for proper maintenance of Bachat Bhawan and sufficient funds for it at Nurpur besides providing blood bank facility and trauma centre in his area. He requested that adequate staff should be deployed in Finna Singh Irrigation Scheme and providing sufficient funds for restoration of historic temples. He also urged for funds for Nurpur Sewerage Scheme.
Manohar Dhiman, MLA, Indora requested to include four panchayats of his constituency in Shahnahar irrigation scheme and demarcation of the land at boundary of Himachal and Punjab States. He also demanded for proper maintenance of various roads and construction of bridges in his assembly segment and giving employment opportunities to the local people in the industries being set up in the area.
Bikram Singh, MLA, Jaswan-Pragpur requested to sort out the problem of shortage of water pipes in the Irrigation and Public Health Department and Lift Irrigation Schemes in his area should be made functional. He urged that area adjoining to the Maharana Partap Sagar Dam should be developed for promoting tourism activities in the area.
Sanjay Rattan MLA, Jwalamukhi urged for opening of Primary Health Centres at Peedhi Galoti, Saniar- Sulani, Adhe Di Hatti and Galor besides SDM Office at Jwalamukhi. He also urged for improvement of health and transport services in his area. He requested for timely forest clearances cases and for providing handpumps to each panchayat in his area. He said that norms should be relaxed for construction of roads in hilly areas and rationalization of all offices in constituency so that they may be connected to offices located in Kangra district.
Yadvinder Singh Goma, MLA, Jaisinghpur urged for making Karori-Kailashpur road functional and to complete the work of various bridges well in time. He also requested for strengthening and widening of Alampur to Jaisingpur and Holta to Chadiyar road besides funding of Dhar Water Supply Scheme and providing drinking water to various panchayats from Kangaihan water supply scheme. He also urged for providing fire station at Jaisinghpur and land for the sufferers of natural calamities in the area.
Pawan Kajal, MLA, Kangra demanded a Government Degree College in his assembly segment and for starting Science classes in government school, Galiyan. He also requested for setting up handpumps in his area so that the problem of drinking water could be solved.
Kishori Lal, MLA, Baijnath urged for constructing the Baragaon road on priority basis and checking the soil erosion and landslides in Baijnath area. He requested for opening Sub Tehsil at Chadhiar and restoring the closed buses routes in his area besides, constituting Rogi Kalyan Samiti at Rajiv Gandhi Government Ayurvedic College and Hospital, Paprola.
Ravi Thakur, MLA, Lahaul-Spiti requested for constructing Nalda bridge, Kaza small irrigation scheme, Tindi water supply scheme, Chicham bridge and gymnasium at Keylong on priority basis. He urged for constructing building of Middle School Darcha and PHC at Sasa besides opening a PHC at Hal village. He requested for completing the work on Udaipur drinking water supply scheme at the earliest and providing standby helicopter in Lahaul-Spiti district in winters. He also urged for encouraging the plantation of sea buckthorn and strengthening the telecommunication services in the area.
Gobind Singh Thakur, MLA, Manali urged for constituting Manali Development Authority for development and promotion of tourism in the area and implementation of Vision Document Manali. He requested for constructing road from Kothigoan to Panduropa and taking effective steps for checking the illegal mining in the area.
Maheshwar Singh, MLA, Kullu requested for solving the voltage problem and opening a new PWD Division in the area. He urged that single tenders should be accepted under PMGSY for accelerating the pace of development and to avoid un-necessary delays in the execution of projects. He also requested for simplifying the procedure for providing gun licenses to the people who were living in the adjoining areas of forest sanctuaries.
Karan Singh, MLA, Banjar demanded to open fire station in Larji and I&PH and PWD Divisions should be shifted to Larji. He requested to start trout fishing at Gadagushani. He also urged to fill vacant posts of Doctors in Sainj, Banjar and Gadagushani. He also urged to explore the possibility of opening Colleges at Sainj and Gadagushani and up-gradation of schools in his constituency.
Khub Ram, MLA, Ani said that previous Government had opened Sub-Tehsil at Nither but deployed Naib-Tehsildar from Nirmand and Kanungo from Ani. He said that these officials should be again sent to their respective places and new postings should be made at Nither.
Hans Raj MLA Churah raised the issue of vacant posts of Teachers, Doctors and Paramedical staff in his assembly and demanded resolve it early. He also demanded to increase the honorarium of Special Police Officers (SPOs) deployed in Chamba district.
B.K. Chauhan, MLA Chamba said that comprehensive list of consultants who can prepare Detail Project Reports should be maintained so that delay in preparing DPRs could be avoided. He requested to connect every village of constituency with roads. He urged to start work of bus stand, Taxi stand and Subzi Mandi in Chamba town. He said that Green Tribunal has declared Khajiar Lake as wetland and has restricted commercial activity within radius of half kms from it. He said that it was hampering tourism activity and requested to take up this matter at appropriate level.
Asha Kumari MLA Dalhousie said that special committees can be constituted for FCA clearances. She requested to increase number of State Civil Supplies Corporation Ration Shops particularly in snowbound areas and requested to rationalize entire public distribution system. She also requested that norms of number of card holders required for opening of PDS shops be relaxed.
Bikram Singh Jaryal MLA Bhatiyat urged that water logging problem of Chowari area during monsoon should be resolved and Sihunta-Jot raod should be doubled laned. He also requested to construct Chowari -Chamba tunnel and filling up of vacant posts of Surveyors and Fitters in I&PH department besides maintenance of Kuhals . He also urged that non-functional hand pumps in his constituency should be repaired.
Rakesh Kalia MLA Gagrat requested to solve the problem of wild animals and speed up the various projects of I&PH and PWD in his constituency. He urged to fill various vacant posts in his constituency.
Rajender Rana MLA Sujanpur said that forest officials should leave the monkeys after sterilization in those very areas from where they were catched. He requested for Administrative Unit of constituency, SDM office at Sujanpur, for appointing Tehsildar at Sujanpur and for opening one more Gas Agency in Sujanpur. He urged for opening Defence Coaching/Training College at Sujanpur and channalization of Beas River to Sandhol to Sujanpur. He also demanded that bus stand should be constructed at Sujanpur.
Vijay Agnihotri MLA Nadaun requested that work on Dhaulasidh Hydro Power Project should be started at the earliest and channelization work of Man and Kunah Khuds should be speeded up. He requested that small check dams may be constructed on small khuds.
P. Mitra, Chief Secretary, proposed vote of thanks and assured that directions of Chief Minister would be fully implemented.
Earlier, Dr. Shrikant Baldi, Principal Secretary, Finance welcomed the Chief Minister and other dignitaries and thanked them for their valuable suggestions which would help in finalization of Annual Plan for 2014-15.
G.S. Bali, Transport Minister, Sujan Singh Pathania, MPP and Power Minister, Thakur Singh Bharmouri Forest Minister, Mukesh Agnihotri Industries and Information & Public Relations Minister, Sudhir Sharma, Urban Development Minister, Kuldeep Kumar Chairman State Finance Commission, Shri Gangu Ram Musafir, Deputy Chairman, State Planning Board, Jagat Singh Negi, Deputy Speaker, H.P. Vidhan Sabha, Neeraj Bharati, Jagjivan Pal, Chief Parliamentary Secretaries also participated in the meeting.