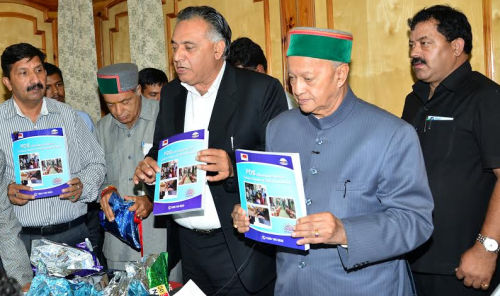 Shimla: Himachal Pradesh Chief Minister Virbhadra Singh released the Public Distribution System (PDS) Manual brought out by Department of Food, Civil Supplies and Consumer affairs here today.
G.S. Bali, Food, Civil Supplies, Consumer Affairs and Transport Minister and Mukesh Agnihotri, Industries Minister were also present on the occasion.
The Chief Minister congratulated the department and said that the manual would be quite informative and the grievances of the people regarding the PDS would now be addressed in the shortest possible time as all the information of the fair price shops, all over the State, with coding and Fair Price Shop Identity number (FPS-ID) had been given in the Manual. Besides, contact details of the PDS stakeholders had also been given which will reduce the redressal time of the grievances of the people.
Virbhadra Singh said that the Manual provides detailed information on the various processes followed in the department, contact details of all the officers and officials of the department as well as H.P. Civil Supplies Corporation.
G.S. Bali, Food and Civil Supplies Minister said that this manual was a significant step towards achieving the greater goal of transparency which will certainly reduce the bad practices bedeviling the PDS. He said that the department was working diligently to build a good Transparency Portal where all the PDS information would easily be available.
The Department has verified about 5,000 phone numbers of various functionaries in the process, and the Manual contains all verified numbers. This includes phone numbers of more than 4,500 Fair Price Shops operating in Himachal Pradesh. The Department is maintaining a Toll Free Call Centre 1800 180 8026. The Call Centre receives about 50 calls of various types every day, and all the queries and grievances received are properly addressed.