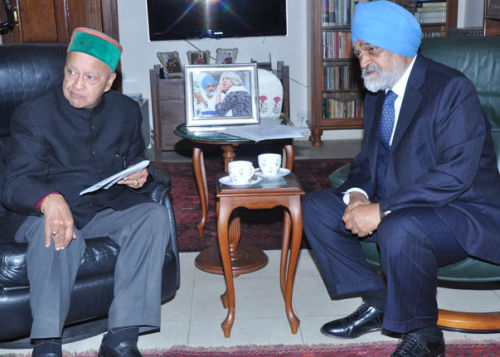 New Delhi: Chief Minister of Himachal Pradesh Virbhadra Singh met Deputy Chairman Planning Commission Montek Singh Ahluwalia, in a special meeting held here at New Delhi last evening and emphasized upon the Planning Commission for release of Special Plan Assistance to the State.
Chief Minister also strongly raised the issue of special assistance for reconstruction under disaster mitigation programme on analogy of Uttarakhand for reconstruction of roads, health institutions, water supply, irrigation and reclamation of agricultural land etc., as Himachal has also suffered heavy losses estimated of Rs. 2934 crore, due to untimely heavy rains during monsoon.
Raising his serious concern on the existence of different pattern of funding under various centrally sponsored schemes like Sarva Shiksha Abhiyan, Mid Day Meal, Rastriya Madhyamik Shiksha Abhiyan, National Rural Literacy Mission etc., Virbhadra Singh requested that all the centrally sponsored schemes be funded in the ratio of 90:10 to all the specially category States uniformly on the pattern of North-Eastern States.
Chief Minister also raised the issue of removing ban on commercial exploitation of Khair trees on Government Land, whereas individuals have been permitted to sell the Khair extract (Katha) on their private land. "Due to this ban, a large number of trees go waste due to ban on commercial exploitation on Govt. land, resulting in the loss of potential revenue to the State", he added.
Many other important issues relating to the financial concern to the State particularly pertaining to the socio-economic upliftment of the people and welfare schemes already being implemented in field of health and education were also discussed in detail during the meeting.
Montek Singh Ahluwalia, Deputy Chairman, Planning Commission was very sympathetic to the demands raised by the Chief Minister and assured to extend all possible help and intervention particularly those pertaining to the developmental aspects of the State. He also praised the Chief Minister for his serious concern and commitment towards the welfare of the people and the State.
He also assured the Chief Minister to take up these matters with the Prime Minister and the concerned Finance Ministry. Dr. Shrikant Baldi, Principal Secretary, Finance to the Govt. of Himachal was also present in the meeting.