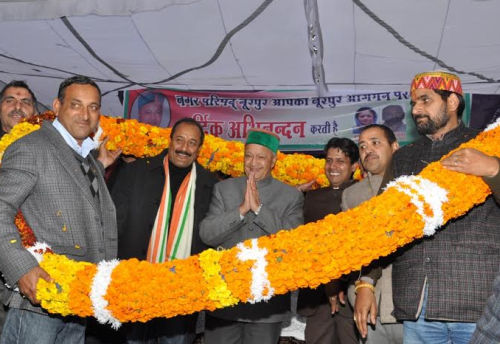 Nurpur: Chief Minister Virbhadra Singh today inaugurated the Combined Office building at Nurpur in district Kangra constructed at a cost of Rs. 468.29 lakhs. This building will house 19 offices benefiting the people of the area in getting various services under one roof. He also inaugurated the CT Scan Centre at Civil Hospital, Nurpur set up by spending Rs. 1.5 crore.
Later, addressing a public meeting at Nurpur, Virbhadra Singh said that State Government was committed to provide best health facilities to the people and efforts were being made to strengthen all health institutes besides deploying adequate doctors and para-medical staff.
The Chief Minister said that his Government was ensuring equal and balanced development of the State which BJP was not able to digest.
Chief Minister announced to upgrade Government High Schools, Kherian, Kot Plahri and Jaunta as Senior Secondary Schools, Government Middle School, Bhugnara as Government High School and Thora, Cheer and Gurchal Primary Schools as Government Middle Schools. He said that Government would provide all assistance to Nagar Parishad, Nurpur for constructing Sulabh toilets near Civil Hospital. He also sanctioned two parkings for the town and said that assistance would be given for repair work of the old school being run in the fort. He said that a new college building would also be constructed at Nurpur and after shifting the college to the new building the school being run in the fort would be shifted to the present college building. He added that Nurpur was one of the historic town of the State and Government would endeavour to further develop it by providing various amenities.
Ajay Mahajan, local MLA welcomed the Chief Minister and thanked him for speeding up the pace of development in the area which had come to stand still during BJP regime. He said that with the availability of CT Scan facility the people of the area would not require to go to Pathankot or other hospitals for getting treatment. He said that latest medical equipments had been provided in the ICU and two ambulances were providing free service to the patients. He thanked the Chief Minister for deploying doctors and staff nurses in the hospitals. He also raised the demand to set up blood bank in the Nurpur hospital.
Baldev, President, Block Congress Committee, Nurpur welcomed the Chief Minister. Sujan Singh Pathania, MPP and Agriculture Minister, Sudhir Sharma, Urban Development Minister, Neeraj Bharti, Chief Parliamentary Secretary, Sanjay Rattan, MLA, Kewal Singh Pathania, Vice Chairman, H.P. State Forest Development Corporation, Chander Kumar, ex Minister, Kewal Singh Pathania, Ex Minister, Ranjeet Singh Bakshi, Bodh Raj and Surender Kaku Ex MLAs and other prominent persons were also present on the occasion.