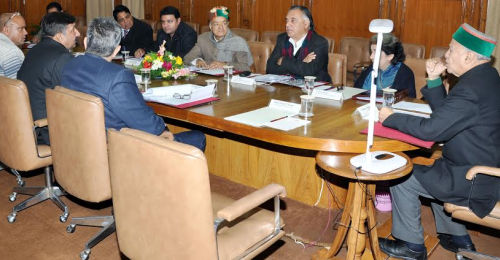 The Himachal Pradesh Cabinet, which met here today under the Chairmanship of Chief Minister Virbhadra Singh, gave approval to establishment of Government Engineering College at Nagrota-Bagwan in Kangra district. This college will have 40 seats each in Mechanical Engineering, Electronics & Communication Engineering and Electrical Engineering.
It also approved opening of Primary Health Centres (PHC) at Sheelghat in district Shimla and another in Gram Panchayat Patta-Baravery in Solan district. The Cabinet gave its nod to open Health Sub-Centre at village Dattowal, Tehsil Nalagarh in Solan district.
The Cabinet sanctioned ITI's to be opened at Gagret, Balh, Manali and Patta Mehlog in Doon constituencies with two trades from next academic session along-with creation of posts.
Cabinet also sanctioned opening of Veterinary Dispensary at Navi in Gram Panchayat Domehar in Sunni Tehsil of Shimla district along-with filling up of one post of Veterinary Pharmasist and one post of Animal Husbandry Assistant.
The Cabinet gave approval for establishment of Poorna Shakti Kendra (PSK) Project in district Solan. This is a new project started by Government of India under the National Mission for Empowerment of Women focused on socio-economic empowerment of women with emphasis on health and education, drudgery reduction and access to different government schemes. Under the scheme one Poorna Shakti Kendra will be set up in at least 10 Gram Panchayats, one convergence and facilitation centre at Block/Tehsil level (TLFC) and one centre at district level (DCFC). The posts for the implementation of this project will be created and filled up on co-terminus basis.
The permission was granted to fill up 100 vacant posts of Ayurvedic Medical Officers in Ayurveda Department on contract basis.
It was decided to fill up 50 posts of clerks on contract basis by Direct Recruitment through HP Subordinate Service Selection Board Hamirpur against the vacant posts of Senior Assistants in relaxation of recruitment and promotion rules and keeping equivalent number of posts in Senior Assistants in abeyance. It approved filling up of 8 posts of Lecturers in H.P Government Dental College by direct recruitment through H.P Public Service Commission.
The Cabinet approved selection of Power Trading Corporation India Limited and Tata Power Trading Company Ltd. (TPCL) for one year for sale of Government's entitlement of power from various hydroelectric projects. It was also decided that the trading margin may be increased if better rates for power sale are received.
It was decided to set up three Zonal Offices of the Ayurveda Directorate at Dharamshala, Mandi and Shimla. Three posts of Deputy Directors along-with incumbents will also be transferred from the Headquarter. The Chief Minister had made an announcement in this regard in October, 2013.
Approval was granted to fill up the post of Director, Sainik Welfare Department on regular basis through the H.P Public Service Commission. It also approved filling up of 8 vacant posts of Deputy Directors (Gazzetted, class-I) in Sainik Welfare Department through direct recruitment on contract basis.
Approval was given to the draft notification of Himachal Pradesh Raj (Appointment and Conditions of Service of Panchayat Sahayaks in Zila Parishads) Rules, 2014.
The Cabinet gave its nod to construct additional accommodation for the PWD Rest House Dehra in district Kangra.
Cabinet also approved creation of 15 supernumerary posts in the cadre of H.P Administrative Service w.e.f 14 September, 2005 onwards till regular vacancies are available in the cadre (other than Tehsildar/BDO as per recommendations of the Review DPC held in the H.P Public Service Commission.