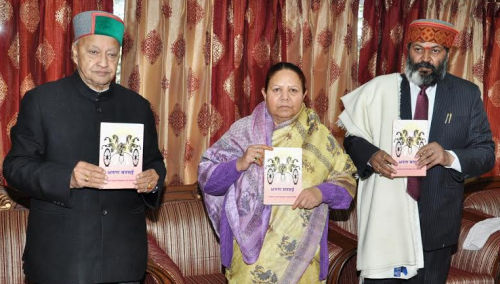 Shimla: Governor Urmila Singh released a poetry book titled 'Arun Satsai' written by Vice Chancellor, Himachal Pradesh University Shimla, Professor Arun Diwakar Nath Bajpai at Rajbhawan today. Singh lauded the Poet for bringing out this book which comprising of about 700 couplets touching every facet of human life.
Chief Minister Virbhadra Singh on the occasion said that Professor Bajpai has put his intellect, experience, thoughts and emotions in the form of couplets in the book. He said that this creation of poet unfolds layers of life's successes and failures, credits and discredits, indulgences and disenchantments, pleasures and pain. He said that poet had penned various aspects of human values, emotions, the sensitivity of human relations and inclination towards present day complexity in the society. He said that while upholding the tradition values linked in Indian way of life the poet also espouses progressive values of modernity.
Virbhadra Singh said that the book contained the work related to linguistic controversies, conflicts of ideology and the essence and mystery of religion. He said that the poet had also tried to delve deep into the intricacies of action, speed and yoga and the couplets are brilliantly rendered with carefully chosen diction and a serious underlying the meaning. He said that the originality of thought, argument and creativity were evident in the text and in the tradition of Satsai writing Arun Satsai opens up new vistas for the readers.
Speaking on the occasion Professor A.D.N. Bajpai said that this book was out come of the ruminations of about thirty years as he started writing in 1984. He said that core of Arun Satsai is 'philosophy of life'. He said that the work and the text depicts the contemporary references to the poetry of Bhavabhuti, Bhasa, Kalidasa, Keshav, Rahim, Raskhan, Bhihari, Kabir and Meerabai, which also assimilates the aspects of materialism, attitudes, politics, urban and rural scenario.
Head of Department Hindi, HPU Prof. Sarswati Bhalla threw light on the various aspects written in the book.
Advisor HPMC Devinder Shyam, Director Language, Art and Culture Devinder Gupta, Dean of Studies Prof. Suresh Kumar, Registrar, HPU Mohan Jhalta, Deans, Directors and Chairperson of HPU, eminent Littérateurs Dr. Om Prakash Sarswat, Inder Singh Thakur and Prof. Aryan Mehta were present among others.