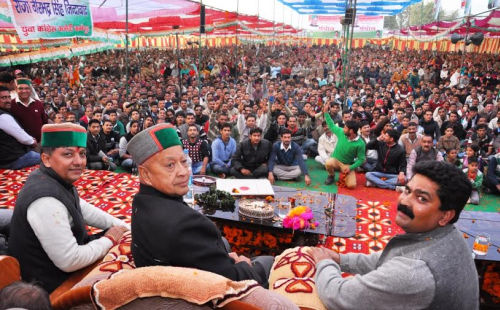 Chief Minister Virbhadra Singh today announced to open government Degree College at Sandhol in Dharampur assembly segment of Mandi district. He also announced to make provision of Rs. 5 crores for construction of the college building.
Chief Minister made this announcement while addressing a public meeting at Sandhol. He also approved to open to Primary Health Centres in the area at Ped and Talangar and directed the PWD authorities to conduct survey for construction of Kamlah-Torkhola, Tihra-Kamlah and Sandhol-Kamlah via Changlu roads. He said that a bridge would be constructed to connect the area with Sujanpur and also announced to reopen the government primary school near Sandhol which had been closed. He directed to construct more rooms at PWD rest house, Sandhol and announced to provide Rs. 25,000 for development of a stadium at Sandhol.
Virbhadra Singh said that liberal financial assistance would be provided to complete the two major water supply scheme of the area. He said that State government was soon going to purchase 1000 buses out of which 20 would be provided to this area.
The Chief Minister said that present State congress government was ensuring speedy and all round development of the State without any political considerations and special emphasis had bee laid to provide quality health and education facilities to the people of the State. He said that it was due to consistent efforts of the Congress governments that facility of educational and health institutions had been provided to the farthest corners of the State.
He said that State Government was endeavouring to strengthen the health infrastructure and improving the health services in the State. It was due to the efforts of the Congress government that two medical colleges were opened in government sector in the State and now efforts were on to develop both as the super specialty hospitals. A new complex was being developed at IGMC Shimla by spending Rs. 150 crore while Rs. 150 crore were being spent on construction of new block for super specialty services at Tanda Medical college. He said that government was taking effective steps to fill up the posts of specialist doctors and approval had been granted to fill 1200 posts of doctors and paramedical staff which would be filled up soon.
Chander Shekhar Sharma, PCC member, who is also member of the Executive Council of H.P University welcomed the Chief Minister and thanked him for announcing the degree college, two Primary Health Centres and other developmental schemes for the people of the area. He said that previous BJP government completely ignored the development of the area and it was only after Congress government came back in to the power that this area had received added attention in the matters of development.
Inder Dutt Lakhanpal, Chief Parliamentary Secretary, Rajender Rana and Sanjay Rattan, MLAs, Jagdish Sipahiya, Chairman, Kangra Central Cooperative Bank, Kuldeep Pathanaia, Vice Chairman, KCCB, Prem Kaushal, Chairman, APMC, Hamirpur, senior officers of the State government and prominent persons of the area were present on the occasion.