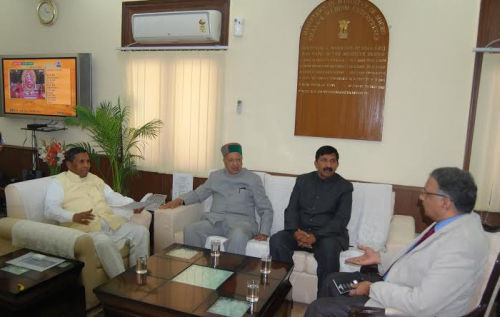 New Delhi: Chief Minister Virbhadra Singh called on Union Minister for Micro, Small and Medium Enterprise K.H. Muniyappa at Udyog Bhawan, New Delhi today.
Chief Minister invited K.H. Muniyappa Union Minister for Micro, Small & Medium Enterprise to lay the foundation stone of the Tool Room in December 2013 to which Union Minister agreed.
Virbhadra Singh informed the Union Minister that State Government had already transferred land for setting up Tool Room and told that State Government would provide all logistic and other facilities for setting up the same in the State.
He requested the Union Minister to announce package for revival of Village and Khadi Board in Himachal Pradesh and also requested for setting up clusters on fruit processing, village industries and other small and cottage industries in the State.
He told that Union Ministry would shortly call the meetings of the Bankers for ensuring the timely sanction of bank loans for setting up small scale industries in the State through village and Khadi Industries Board.
Virbhadra Singh told that the Tool Room would help in skill development of the rural youth and would increase their chances of employment in both public as well as private sector. He said that the Tool Room would open new vistas of employment in the State and would meet the growing needs of skill development centres.
Industries Minister Mukesh Agnihotri, Principal Secretary to Chief Minister V.C. Pharka and Principal Resident Commissioner P.C. Dhiman were also present in the meeting.