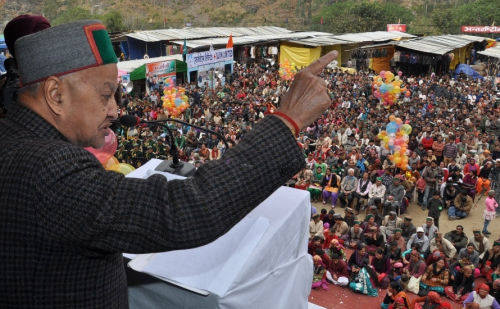 Rampur: Chief Minister Virbhadra Singh on his Rampur tour to attend the international Lavi fair and while speaking on the occasion, he announced to open a Government Degree College at Nankhari and directed Deputy Commissioner Shimla to identify a suitable land.
Singh also inaugurated the multi-specialty health camp at Khaneri hospital. He also inaugurated Arts and Library Block of the Rampur College constructed at a cost of Rs. 4.66 crore and the office of Executive Engineer (I&PH) at Rampur Bushahr.
He said that roads play a very important role in development of the area, adding that 46 gram Panchayats of Rampur sub-division had been provided road facility while remaining two Panchayats- Koot and Kashapath would get road connectivity during next year before the start of summer season. He said that a new bridge would be constructed near new Bus Stand Rampur to ease traffic congestion.
Virbhadra Singh said that a target had been fixed to construct 475 kms long motorable roads, 40 kms jeepable roads and providing cross drainage facility on 620 kms road length in the State. Besides, mettaling and tarring work on 570 kms road was also under progress and 80 villages would be provided road connectivity during this year along-with constructing 35 bridges.
He said that government was working hard for all-round and speedy development of the State and it was being ensured that every section of the society was benefited through various welfare policies and programmes of the government. The State had launched Rajiv Gandhi Ann Yojana under which 36.82 lakh people were being provided three kgs of wheat at the rate of Rs. 2 per kg and 2 kgs of rice at the rate of Rs. 3 per kg. Besides Antodaya families were also being given a quota of 15 kgs of rice and 20 kgs pf wheat per month as before.
MP Pratibha Singh Chief Parliamentary Secretary Nand Lal, Deputy Commissioner and Chairman Lavi Fair Organising Committee, Dinesh Malhotra, Khoob Ram, MLA, Chandreshwar Prasad, Chairman, Zila Parishad, Vice President, HPSIDC Atul Sharma, Advisor to the Chief Minister T.G Negi and other senior officers were also present on the occasion.