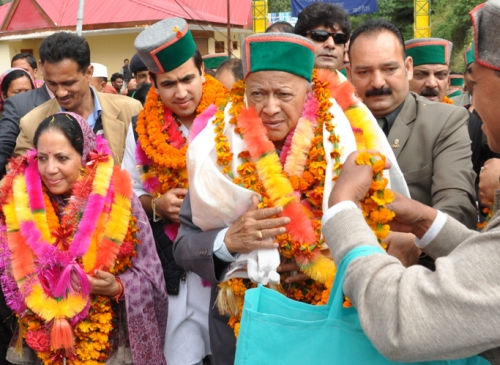 Chief Minister Virbhadra Singh said that the State Government was giving added priority to provide roads, batter health and education facilities to the common people at their door steps. He said that in the present era of technology, the technical know how and perspectives of development were changing very fast and ropeways could become an effective means of connecting different areas in the hills.
Virbhadra Singh was addressing a public meeting at Sarhan in Rampur sub-Division of Shimla district today. He said that during previous Governments tenure many post remain vacant in many departments especially in rural areas, which hampered the development process. He called upon youth to come forwarded to serve the people residing in villages.
Chief Minister said that State Government would make service rules stringent so that employees serving in rural especially in hard areas stay there. It would help in ensuring batter services in rural areas besides helping in making people aware about the welfare policies and programme of the State Government. This would benefit the rural populace with the Government polices. He said that State Government would fill up vacant posts lying in different departments at the earliest.
Virbhadra said that nature has bestowed Himachal Pradesh with immense beauty and far flung areas of the State had immense potential of Tourism Development. He called upon the local people to provide their cooperation in developing the Tourism sector in their respective areas. He said that while constructing houses near roads, people should not harm the natural environ. Tourists visit Himachal to have a glimpse of natural beauty and concrete structures harm the interest of the State besides harming the environment, he added.
Member Parliament Pratibha Singh said that she was taking up the matters of State development with Government of India vigorously. Matters of the State interest were being taken up with different Central Ministries and Government of India was requested to provide financial and other help to the State Government. She said that MGNREGA, RTI and Food Security Act were some of the revolutionary schemes of the Central Government and the entire country was being benefited from these.
Chief Parliamentary Secretary, Nand Lal said that Rampur Assembly Constituency owes its development to Congress Party and asked the people to support Congress party in future also so that balanced development of the area could be ensured.
Chairman, State Co-Operative Bank Ltd., Harsh Mahajan, Chairman, Sports, Cultural and Environment Council, Vikramaditya Singh, Chairman, Agricultural Rural Development Bank, Devi Singh Jistu, Chairman, Kailish Federation, Brij Lal, Chairman of Municipal Council, Rampur Bushahr, Deepak Sood, Vice- Chairman, HPSIDC, Atul Sharma, Chairman, BDC, Guddi Devi, Former ZP Chairman, Chander Prabha Negi, Advisor to Chief Minister, T.G. Negi, DC, Dinesh Malhotra, SP, Abhishek Dullar, senior officers and prominent people of the area were also present on the occasion.