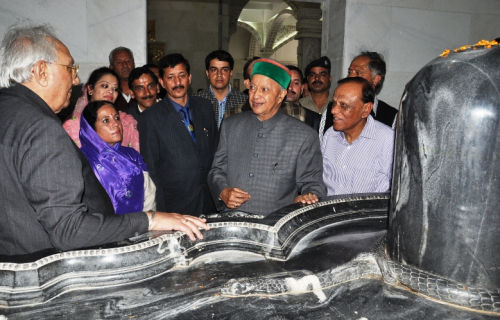 Chief Minister Virbhadra Singh said that the State had made tremendous progress in all sectors after it came into existence and the credit goes to the successive Congress Governments. He said that the Himachal Pradesh has emerged as one of the most fast developing State of the Country, which had achieved several milestones of development. He was addressing a public meeting near Madag Jawala Temple in Gram Panchayat Kot of district Shimla today.
Chief Minister said that the State was known for its rich culture heritage and it was our duty to preserve our culture and rich traditions. He said that the State Government was promoting the construction of old age homes but it was our foremost duty that we should not leave our elders alone at their old age as it was against our traditions and culture.
He said that the credit of development of the State goes to Congress Chief Ministers, Dr. Y.S. Parmar, Ram Lal Thakur and to him, as people of the State gave him opportunity to serve them six times. He said that the BJP came into power in the State in intervals by default to only hamper the pace of development set by the successive Congress Governments.
Virbhadra Singh directed the Deputy Commissioner, Shimla to prepare a plan for expansion and beautification of Maa Jawala Temple Mandag premises besides constructing a Multi Purpose Community Hall. He said that link road to Mata Madang Temple would be widened and tarred to facilitate the pilgrims. He directed the officers to prepare and submit a plan and budget estimates for various developmental projects pertaining to water supply and irrigation schemes, roads and opening & upgradation of schools in Kot Panchayat and nearby areas.
Chief Minister said that a full fledged Tool Room was being set up at Baddi to promote industrial development in the State. He said that the State Government was providing skill development allowance to the 18 to 35 years unemployed youth of the State under which Rs. 1000/- allowance was being given per month for their skill development, besides Rs. 1500/- for unemployed youth with disability.
Ramesh Thakur, Chairman, Solan Marketing Board requested the Chief Minister to upgrade Kandaghat hospital to 100 bedded hospital and for constructing Sakodhi lift irrigation scheme.
Chander Shekar Sharma, President District Congress Committee also spoke on the occasion. Dev Verma, Secretary, Jawala Madag Temple Sewa Committee welcomed the Chief Minister. Sunita Devi, Pradhan, Gram Panchayat Kot presented the vote of thanks.
Pratibha Singh, Member of Parliament, Sohan Lal, former MLA, Satya Dev Sharma, Chairman, Zila Parshid, T.G. Negi, Advisor to the Chief Minister, Dinesh Malhotra, Deputy Commissioner, Abhishek Dullar, Superintendent of Police, Ramesh Chajjta, SP, Solan and C.P. Verma, ADC and other senior officers and prominent persons were also present on the occasion.
Earlier, Chief Minister visited Mohan Shakti National Heritage Park at Harth near Slogra in district Solan. He appreciated the efforts of Brig. Kapil Mohan for constructing the Heritage Park and said that it would be another attraction for tourists in the State. He said that link road to Harth from national high way would be widened and mettled, besides providing other basic amenities such as drinking water and upgradation of electricity.
Virbhadra Singh also planted a Rudraksh tree and Pratibha Singh planted a Champak tree at Temple complex on the occasion.
Brig. Kapil Mohan apprised the Chief Minister that the foundation stone of the Park was laid by former Prime Minister Atal Bihari Vajpayee on 1st December, 2002 and assured him that the construction work of the Park would be completed soon and it would be open to the public soon.
Dhani Ram Shandil, Social Justice and Empowerment Minister, Surinder Sethi, Member, BoD, HPTDC, Arvind Gupta, Member, Pollution Control Board, Mohan Mehta, Chairman, Jogindra Cooperative Bank, Solan and other prominent persons were also present on the occasion.