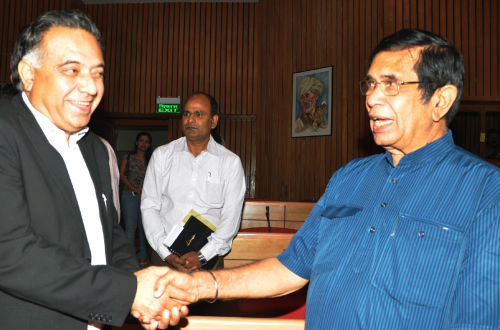 New Delhi: The State Government requested the Central Government to provide coarse grains, Wheat and Rice as per the demand of people and to cover maximum people of the State under the act under National Food Security Act. The demand was made by Food Civil Supplies and Consumer Affairs Minister G.S Bali while speaking in Food Ministers conference organised in New Delhi today. He said that there is a limited grinding facility in remote rural, backward, tribal and difficult areas of the State and there is a general requirement of Atta in the State.
G.S Bali requested for central assistance for enhancing the storage capacity of the Food Corporation of India as well as the HP State Civil Supplies Corporation so that at least three months ration requirement could be stored at a time in order to meet any eventuality due to the difficult topographic condition of this state.
Food Civil Supplies and Consumer Affairs Minister informed that in Himachal Pradesh "Rajiv Gandhi Ann Yojna" under NFSA, 2013 has been inaugurated by Chief Minister Virbhadra Singh on 20th September, 2013 and is being implemented from 1st of October, 2013. 36.82 Lakh people of the state shall be brought under the ambit of the scheme comprising 56.23 % of the rural and 30.99% of the urban population. He informed that as per the guidelines notified by the State government on 1st of August 2013, all the Antodaya Anna Yojana households, BPL households, Annapurna beneficiaries, households getting welfare pension and Tibetan permit holders are automatically included in eligible households under NFSA. The left out beneficiaries shall be identified by the Urban Local Bodies and Gram Panchayats in special meetings for which detailed guidelines have been issued. He assured that State Government shall complete the entire selection process by the end of October, 2013 positively. The beneficiaries of the State shall be entitled to Rice at the rate of Rs 3 per kg, Wheat at the rate of Rs 2 per Kg and coarse grains at the rate of Rs 1 per Kg.
He also sought assistance of Government of India for end to end computerisation project of Food and Civil Supplies department which aims to ensure computerisation of the entire PDS system which shall ensure efficiency and prevent leakages. He assured Union Agriculture minister Sharad Pawar and Union Minister of State for Food KV Thomas that Himachal Government shall make all out efforts to ensure that the food grains reach the intended beneficiaries under the act.