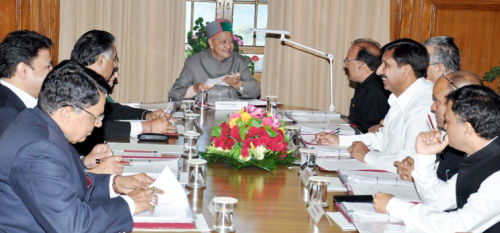 Himachal Pradesh Cabinet, which met here today under the chairmanship of Chief Minister Virbhadra Singh, decided to frame a special policy for regularization of encroachments by the oustees in the New Bilaspur Township in the public interest. The maximum extent of land which may be regularized shall be upto 150 sqm only and same shall be on free hold basis.
The Cabinet decided to revise and enhance the norms of relief under Himachal Pradesh Disaster Management and Relief Manual 2012. This will enhance the relief assistance provided to the disaster affected persons in the State.
The Cabinet gave its approval to upgrade the Nagar Panchayat Santokhgarh, Dehra, Jawalamukhi and Sujanpur as Municipal Council and upgrade their posts of Secretaries as Executive Officers.
It decided to move the case for FCA clearance of land to Ministry of Environment and Forests, Government of India (GoI) for the establishment of Central University in the State as per recommendation of the Site Selection Committee.
The Site Selection Committee has recommended developing both the campuses one at Dharamshala and other at Dehra in a phased manner. About 160 hectares of land at Dharamshala has been recommended for immediate development of the main campus of the University while 80 hectares at Dehra may be taken up in second phase.
The Cabinet gave its nod to upgrade Civil Hospital Nerva and Chopal in district Shimla to 50 bedded each with required staff.
It gave its approval to create 15 posts of various categories required for Police Station Sunni which was recently upgraded from Police Post Sunni to full-fledged Police Station in Shimla district.
It approved to shift HPPWD Division No. II Shimla and HPPWD Sub Division Jutogh to Dhami.
The Cabinet approved the proposal of High Court of Himachal Pradesh for enhancement of pecuniary jurisdictions of all subordinate Courts in Himachal Pradesh by amending Himachal Pradesh Courts Act, 1976. This will enable citizens to take up their cases at the district level Courts.
The Cabinet gave its permission to lease out Government land measuring 1540.37 sqm. comprised in Khasra No. 1380/645 and 1381/645 in Mohal Khaliar, Tehsil Sadar, District Mandi to the Kendriya Vidyalaya Sangathan on token lease money of Rs. one per annum for 99 years in relaxation of rules.
The Cabinet gave its nod to open a Tehsil Welfare Office at Haroli in district Una. It approved construction of Irrigation and Public Health Department Rest House (Inspection Hut) at Sidhwari in district Kangra.
The Cabinet also approved for the publication of amendments in Himachal Pradesh Forest (Timber Distribution to the Right Holders) Rules, 2010 in H.P. Rajpatra for inviting objections/suggestions from the general public.
It approved to transfer back the control of 842.68 hectares of forests of Shimla Urban area from Municipal Corporation Shimla to Forest Department for its proper management.
The Cabinet approved to bring all statutory towns notified or likely to be notified under the Himachal Pradesh Municipal Act, 1994 and Urban Growth Centres under the ambit of Himachal Pradesh Town and Country Planning Act, 1977 to meet the directives of the Government of India and fulfill the conditionalities of mandatory reforms of JNNURM for ensuring funding under said Centrally Sponsored Programme.
The Cabinet decided to fill up 100 posts of Punjabi and 100 posts of Urdu language Teachers on contract basis. It was decided to fill up two posts of Station Fire Officer, four posts of Sub Fire Officer alongwith 30 posts of Firemen through recruitment of trained Firemen on contract basis.
The Cabinet decided to fill up 15 posts of Assistant Engineer (Civil) in Irrigation and Public Health Department through direct recruitment on contract basis.
It also approved to engage a Consultant for designing and setting up of Emergency Operation Centre at the State level and 12 Districts Emergency Operations Centres in each district headquarter in the Revenue department for Disaster Management.
The Cabinet approved to fill up 19 vacant posts of Inspector, Grade-I in Food and Civil Supplies Department through direct recruitment on contract basis.