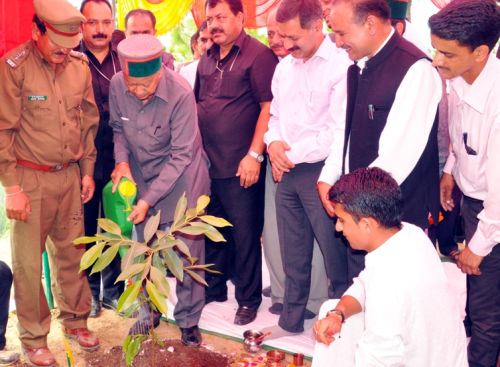 Himachal celebrated 64th State level 'Van Mahotsav' function at Shamlaghat near Ghanati in district Shimla today. Chief Minister Virbhadra Singh, while speaking at the function said that the area under forests in the State had increased to 32 crore cubic meters from 25 crore cubic meters.
He said that nature had bestowed Himachal Pradesh with natural wealth such as mountains, green forests and water springs which needs to be preserved for posterity. He said that forests and human beings were inter dependent on each other for their survival and it was our duty not only to preserve the forests but also plant more trees and ensure their survival. He said that forests go a long way in maintaining the ecological balance. He stressed the need for preservation of animals, birds and wild life which maintain the eco system.
Chief Minister said that 'Van Mahotsav' was initiated sixty four years back in 1950 by Union Food and Agriculture Minister K.M. Munshi of the then Prime Minister Pandit Jawaharlal Nehru Cabinet. He said that 'Van Mahotsavs' make the common people aware about the need of plantation and to inspire them for afforestation. He directed the Forest Officers to make the assessment of the plantation and their survival done during previous Van Mahotsavs. He also directed them to check illicit felling of trees in the State and to take strict action against the defaulters.
Virbhadra Singh said that the Government was considering restoring the TD rights of the farmers to fulfil their timber needs for house construction and performing funeral etc. which would help in curbing illegal felling of trees. He said that he had banned the use of wooden boxes for packing of apples and introduced carton boxes which helped in saving the forest wealth in a big way and growers got remunerative prices of their produce. He said that saw mills (Aara machines) were removed from forest land in the State which also helped in saving trees.
Chief Minister said that a modern carton factory was set up at Gumma in Pragatinagar which produced and provided quality cartons to the fruit growers. He said that it was unfortunate that the carton factory was closed and its machines costing about Rs. 80-90 crore were sold at throwaway price of Rs. two crore only. He said that he had got information that the same machines were re-assembled at Nagpur and were producing cartons which were being sold in Himachal Pradesh. He ordered to conduct an inquiry into it. He expressed concern over the encroachment of forest land by a person in Manali and sleeper seizure at Dalhousie in Chamba district. He sought a detailed report in these respects and said that strict action would be initiated against the concerned.
Virbhadra Singh said that medicinal herbs especially 'Nagchhatari' were being exploited illegally in a big way in the State which needed to be checked at once.
Virbhadra Singh said that Rs. 132 crore were being spent on forestry and wildlife sector during current fiscal as against Rs. 127 crore during last year in the State. He said that area of 17,500 hectares would be brought under plantation thereby generating about 34 lakh mandays during current financial year. He said that 60 percent plants of broad leaved species would be planted during this year, out of which 20 percent would be of wild fruit species. He said that this would go a long way in checking monkey menace to populace areas as monkeys could get sufficient food in forests itself.
Chief Minister said that six new sterilization centres would be set up during current financial year besides monkey protection parks would be established at appropriate places in the State to house sterilized monkeys. He directed the Forest Officers to ensure that monkeys should be let out at places from where they were picked up for sterilization. He expressed concern that only five monkeys were sterilized at Kandaghat centre during last year for which he ordered an inquiry.
Chief Minister said that forest and agriculture land at some places in the State had been infested by the weeds especially 'lantana' thereby affecting the source of income of nomadic communities. He said that about 1.85 lakh hectares of forest land were infested by weeds and the present Congress Government had made a provision of Rs. five crore during this year for the treatment of 5000 hectares weed infested land.
Chief Minister also released a book titled 'Wild Medicinal Plants of H.P: An Assessment of their Conservation Status and Management Prioritisation' and a poster of "Forest Medicinal Plants' brought out by the Forest Department.
Earlier, Chief Minister planted a sapling of 'Jamun' (Syzygium cumini), Forest Minister planted a sapling of Monkey Puzzle Tree (Araucaria araucana) while Chief Parliamentary Secretary (Forests) planted a sapling medicinal plant of 'Harad' to mark the occasion. Senior officers, prominent persons and local people also planted the saplings of various varieties.
Forest Minister Thakur Singh Bharmouri speaking on the occasion said that Prime Minister Indira Gandhi deputed Virbhadra Singh to check illicit green felling to save the forests in 1982. He said that Virbhadra Singh had taken effective steps to check illegal felling of trees after becoming Chief Minister of the State which saved our rich green cover. He said that on the directions of Chief Minister 775 villages having population of one lakh persons had been taken out from the purview of sanctuary area adding that the Forest Department was reviewing current TD policy to make it more practical and people friendly.
Forest Minister said that many schemes were being implemented with external cooperation to increase the green cover in the State adding that Mid Himalaya Watershed Development Project worth Rs. 365 crore was implemented in the 602 Gram Panchayats of the State since 2005 and Swan Project in 96 Gram Panchayats of district Una worth Rs. 160 crore was implemented in the year 2006. He said that due to efforts of the State Government the implementation period of these projects had been extended upto the year 2016 with additional allocation of Rs. 235 crore for Mid Himalaya Watershed Development Project and Rs. 54 crore for Swan Project. He said that 102 new panchayats had been brought under Mid Himalaya Watershed Development Project.
Chief Parliamentary Secretary (Forests) Rajesh Dharmani gave the credit for saving the precious forest wealth of the State to Virbhadra Singh, Chief Minister. He said that it was due to his farsighted leadership that the forest cover was increasing day by day. He said that green felling had been completely banned by Shri Virbhadra Singh after becoming Chief Minister of the State. He said that 205 forest guards would be recruited to strengthen the department and promote the forestry.
Principal Chief Conservator of Forests R.K. Gupta detailed out the various activities of the Department on the occasion. He said that forest cover had increased in last two decades from 21.16 percent to 26.37 percent as per Forest survey of India report, 2011. Conservator, CAT Plan, Anil Vaidya presented vote of thanks.
Deputy Mayor, MC Shimla Tikender Panwar, Vice Chairman, HRTC Kewal Singh Pathania, former MLA Sohan Lal, President, Chairman, HP State Agriculture Bank Devi Singh Jistu, President, Block Congress Committee Chander Shekhar Sharma, Deputy Commissioner Shimla Dinesh Malhotra, PCCF, Wild Life A.K. Gulati, MD, HP Forest Corporation J.S. Walia, and other senior officers and prominent persons were present on the occasion.