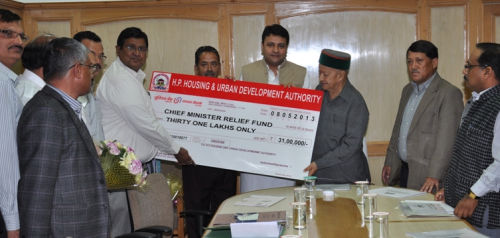 Himachal Pradesh Housing and Urban Development Authority donated Rs. 31 lakhs towards Chief Minister Relief Fund. Sudhir Sharma, Urban Development Housing and TCP Minister presented cheque, on behalf of department to Chief Minister Virbhadra Singh.
Chief Minister welcomed their noble gesture and thanked them for the assistance towards the CM relief Fund which he said would further help in providing relief to the poor and needy during their illness.
Additional Chief Secretary P. Mitra, Principal Secretary to Chief Minister V.C. Pharka, Principal Secretary Administrative Reforms Sanjay Gupta, CEO HIMUDA Arun Gupta and other Officers of HIMUDA were present on the occasion.
H.P. Pollution Control Board (PCB) also contributed Rs. 51 lakhs towards relief fund. Kuldeep Singh Pathania, Chairman of the Board presented a cheque Chief Minister Virbhadra Singh.
Member Secretary PCB, Sanjay Sood, Officers and the Officials of the Board were also present on the occasion.