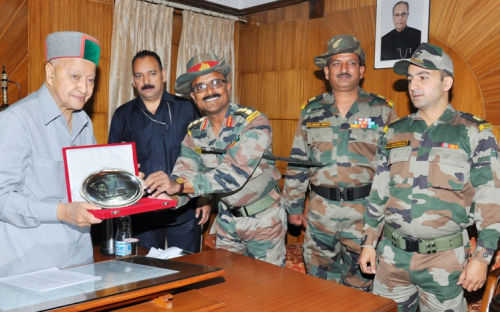 Col. Narasimhan G, Commanding Officer 133 Infantry Battalion (TA) Ecological Task Force, The Dogra Regiment called on Chief Minister Virbhadra Singh here today and apprised him about the activities of Ecological Task Force.
Col. Narasimhan said that Ecological Task Force had planted more than 15 Lakh trees during the last six years in the State which had very good survival rate. He said that two companies of the unit were located at Tatapani in Shimla district and Aut in district Mandi catering to the catchment area treatment plants of Satluj and Beas rivers.
He urged the Chief Minister to sanction two more companies of Ecological Task Force for Rampur, Chamba and Kinnaur district. Chief Minister assured him to consider the demands sympathetically.
Major Jagdish Singh of Ecological Task Force was also present on the occasion.