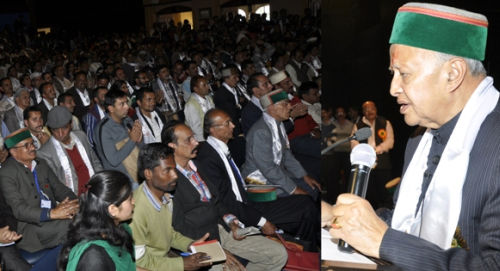 Chief Minister Virbhadra Singh said that a helipad would be constructed at Kalabag to facilitate the pilgrims visiting famous Choordhar temple. He said that the helipad would be constructed during current fiscal. He also announced a grant of Rs. 10 lakh for the construction of Shirgul Devta temple.
Virbhadra Singh was speaking on the occasion of 12th annual convention of Chooreshwar Sewa Samiti, Choordhar at Gaiety Theatre here, today. He said that the construction work of Shirgul Devta temple would be speeded up and completed by the end of this year.
Chief Minister said that Choordhar was one the important religious and tourist destination of the State and all efforts would be made to provide various facilities to the pilgrims and the tourists at this place.
Virbhadra Singh directed the Tourism and Forest department to submit the feasibility report for setting up rope way from Sarahan to Kalabag in Sirmour district. He added that the construction work on Nohradhar to Choordhar road would be resumed soon.
Chief Minister directed the Irrigation and Public Health department and H.P Electricity Board to complete the construction work of lift water supply scheme for Choordhar from Tarahan Khad. He also directed the District Administration for improving the condition of the pedestrian path from Kupwi to Choordhar and Sarahan Bigit Maharaj Temple to Choordhar. He also directed the Forest department to take appropriate steps for the constriction of motorable road from Mandah Ghati (Chopal) to Khadach, which would reduce the distance by five kilometres. He stressed the need to improve the trails and paths leading towards Choordhar temple.
Virbhadra Singh said that Himachal Pradesh was one of the prime tourist destinations in the world because of its serene environment and natural beauty. The State government was doing its best to preserve the precious environment besides giving boost to the pilgrimage tourism at large scale.
He lauded the efforts of the Chooreshwar Seva Samiti for generating various facilities for the pilgrims at Choordhar.
Virbhadra Singh said that government had taken significant steps to promote the tourism along-with creating employment opportunities in this sector. He said that 1000 tourists guide and driving training would be imparted to the 3900 youth this year to link the local youth with tourism activities and to create more avenues of self-employment. Efforts were being made to open hotels and providing basic amenities in the backward Panchayats to promote the tourism in the State, he added.
Chief Minister said that the State Government would make efforts for scientific harnessing of herbs which were present in the State so that these could be utilized for human welfare.
Virbhadra Singh released a souvenir and an audio CD brought out by the Chooreshwar Sewa Samiti. Famous folk singer of the State Dr. K.L Sehgal and his daughter Dr. Savita Sehgal has rendered the voice in this audio album. This album contains ten Hindi-Pahari songs composed by Dr. K.L. Sehgal and written by Vidya Nand Saraik.
Chief Minister also released two books written by eminent writer Som P Ranchan titled 'Buddha Buddhatva Buddhichita Vajraiad' and ' Virbhadra, the Magus Mystic Positiva'. Chief Minister also honoured outstanding members of Chooreshwar Sewa Samiti.
Social Justice and Empowerment Minister Dr. Col. Dhani Ram Shandil said that Churdhar was famous religious destination of the State and thousand of people especially of Solan, Shimla and Sirmour visits every year. He said that joint survey by Language, Art and Culture and Tourism department would be done to harness and promote Churdhar as favourite tourism destination.
Chief Parliamentary Secretary Vinay Kumar apprised the Chief Minister about various demands of the area. He said that he would be the life member of Chooreshwar Sewa Samiti and efforts would be done to improve the various facilities at Churdhar.
District Sirmour Congress Committee President and Former CPS Harshwardhan Chauhan presented vote of thanks. Chairman, Chooreshwar Sewa Samiti, I.N Mehta detailed about the various activities of the Samiti and he urged the Chief Minister to improve the various facilities at Choordhar.
Kapil Mahashe, President Shimla Unit welcomed the Chief Minister and apprised about the various activities of the Chooreshwar Sewa Samiti. Patron of the Chooreshwar Sewa Samiti Amar Singh Chauhan also spoke on the occasion.
MLA's Balbir Verma and Baldev Tomar, Retd. IAS, Dr. CRB Lalit, DC Shimla Dinesh Malhotra, BM Nanta, MD, Civil Supplies Corporation, Advocate General, Shrawan Dogra, SP Kangra, Balbir Thakur, Spokesman Chooreshwar Sewa Samiti, Advocate I.N Mehta and Members and office bearers of all 28 units of Chooreshwar Sewa Samiti were present on this occasion.