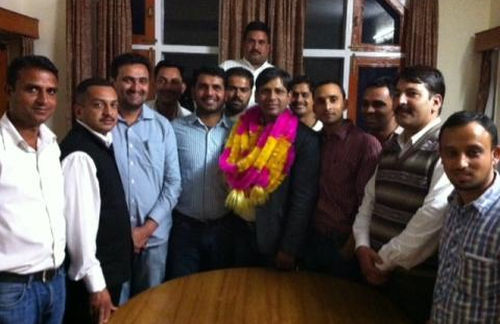 Putting rest to the all speculation, State BJP chief Satpal Singh Satti has appointed Sunil Thakur as state chief of the Bharatiya Janata Yuva Morcha (BJYM). Sunil Thakur has started his political career with ABVP and is active in politics from last 14 years. First he was shot into prominence in 2000 when he was elected president of PG College Solan. He holds various organizational posts in last 14 years of political career. He was appointed state joint sec ABVP in 2002-03, Unit president HPU in the year of 2003-04 and ABVP Mandi district organising secretary in 2005-06.
He was also given responsibility of national executive member from 2006-10 along with the charge of ABVP Chandigarh Punjab organising secretary. In 2010, Thakur was elevated to the post of State General Secretary BJYM.
In other appointments, BJP Chief has appointed Ritu Sethi as chief of the state unit of the BJP Mahila Morcha, former Gagret MLA Balbir Chaudhary as chief of the state unit of the BJP Scheduled Caste Cell, Baldev Bhandari was appointed as state BJP Kisan Cell chief, Jia Lal was given the responsibility of state BJP Scheduled Tribe Cell chief and Muhammad Raj Bali was asked to lead the BJP state Minorities Cell.