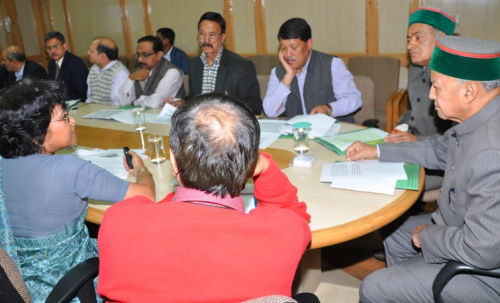 Chief Minister Virbhadra Singh said that State Government would take up the matter with the Government of India (GoI) for releasing Rs. 277 crore to Himachal Pradesh Government, which was erroneously deposited in Compensatory Afforestation Fund Management & Planning Authority of India (CAMPA) by the Ministry of Defence in respect of the cost of the trees of Project under Defence.
In a review meeting of Forest Department, Virbhadra Singh said that other pending issues such as continuation of Regional Office at Chandigarh for Forest Conservation Act (FCA) clearances, approval to IT Project of Rs. 25 crore, Chilgoza Pine Project of Rs. 10 crore and Sea-buckthorn Project of Rs. 35 crore would also be taken up with concerned Ministries at the Centre.
Chief Minister directed the Forest Officers to emphasise on afforestation in order to increase green cover in the State. He said that out of total 55,673 square kilometres area in the State, 66.52% is legally classified as forest and 26.37% under dense forest. He lauded the efforts of Forest Department for initiating measures for increasing the forest cover of the State despite heavy biotic and developmental pressure, besides taking initiatives for various innovative activities such as introduction of Forest Fire Alert Systems (FFAS) and Geographical Information System (GIS).
Virbhadra Singh said that it was a matter of pride that Great Himalayan National Park, in Kullu District has been short listed for nomination as UNESCO's World Heritage Site.
Chief Minister said that 30 final approvals under Forest Conservation Act (FCA) had been cleared by GoI and 39 approvals in principle had been received during last three months. He said that a special drive was launched by the Forest Department to speed up the clearances of the Forest Cases. He said that cases pertaining to forest clearances were being regularly monitored by the Government at the State level and at the District level.
Virbhadra Singh said that six more monkey sterilization centers would be set up in the State to check the monkey menace during the current financial year. A special drive will be launched in the State by the Forest Department to eradicate lantana. He said that vigorous efforts should be made to get more funds under CAMPA from Ministry of Environment and Forests.
Chief Minister informed that 102 more Panchayats have been added in World Bank Mid-Himalyan Watershed Development Project and allocation has been enhanced by Rs. 235 crores which would now have a total outlay of Rs. 600 crores and would culminate in March 2016. The project would be implemented in 704 panchayats in the State with ratio of 80:20 of World Bank and State Government respectively.
He expressed his happiness over the increase of cost of Japan International Cooperation Agency (JICA) assisted SWAN Integrated Watershed Development Management Project at Una, from Rs. 160 crores to 214 crores. It will also conclude in March 2016 and 96 panchayats would be covered under it.
Virbhadra Singh said that currently, issue of raising medicinal plants in the State was being addressed by various departments. He asked the Chief Secretary to review it and take appropriate decision in this regard.
Forest Minister Thakur Singh Bharmori urged for more funds to the Department for afforestation. He said that timber should also be made available to the local people at market rate to meet their bona-fide domestic requirements for house construction etc. in addition to timber distribution (TD) rights.
Bharmori apprised the Chief Minister that the priority of the Department was being fixed as per the Election Manifesto which was adopted as a policy document of the State Government. He also informed the Chief Minister that very soon he would be visiting Ministry of Environment and Forests along with the team of Senior Officers of the Department for impressing upon the early clearances of the projects and cases pending with GoI.
Principal Secretary, Forests, Bharti S. Sihag welcomed the Chief Minister and detailed about the achievements of the Department. Chief Secretary S. Roy, Advisor to Chief Minister T.G. Negi, Principal Secretary to Chief Minister, V.C. Pharka, Principal Secretary Finance, Dr. Shrikant Baldi, Secretary Administrative Reforms, Sanjay Gupta, Principal Chief Conservator Forests, R.K Gupta, Principal Chief Conservator of Wild Life A.K. Gulati, M.D. Forest Corporation, Vineet Kumar, and other senior Officers of the Forest Department participated in the meeting.