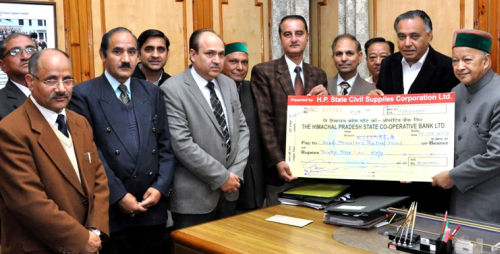 H.P. State Civil Supplies Corporation contributed Rs. 31 lakh towards Chief Minister's Relief Fund. Transport and Civil Supplies & Consumer Affairs Minister G.S. Bali presented cheque on the behalf of Corporation to Chief Minister Virbhadra Singh.
Chief Minister thanked the Corporation for contributing towards noble cause adding that the relief fund goes a long way in helping the poor and needy.
G.S. Bali on the occasion apprised the Chief Minister that essential commodities worth Rs. 1246.76 crore were provided to the consumers by the Corporation during the year 2011-12 and Corporation had earned gross profit of Rs. 603.59 lakhs and net profit of Rs. 390.19 lakhs after paying taxes.
Bali said that Corporation was procuring and distributing essential food grains and other commodities under various schemes besides arranging supplies of medicines and other related equipments to the general public on subsidized rates. He said that the Corporation was also providing petroleum products in tribal, snow-bound and in-accessible areas of the State.
Prem Kumar, Additional Chief Secretary, B.M. Nanta, M.D. Civil Supplies Corporation, B.C. Badhaliya, Director, Food & Civil Supplies and other senior officers were also present on the occasion.