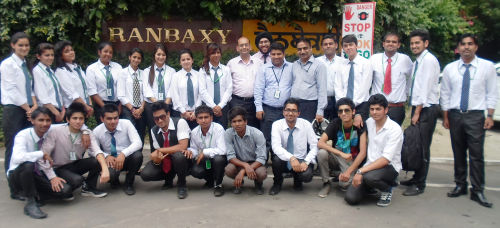 To sense the experience of real business environment, Bahra University sent a batch of 25 students of BBA 1st year to the manufacturing plant of Ranbaxy Ropar in Punjab
During their visited, the Human Resources Manager of Ranbaxy – Ajay Kumar Himanshu coordinated the industrial visit at Ropar plant. Ajay Himanshu briefed the working of plant with management's students and also explained the various career options available for these students after the completion of their courses.
Management trainer at Bahra University – Vivek Mittal and Uday Mittal, accompanied these students. Uday Mittal said that this industrial visit has motivated the students towards their goals to pursue career in business and management. He added that such tours facilitate students to sense the real business environment and help them to prepare to overcome the shortcomings of near future. He said that University will also further organise such events for its students on regular intervals.