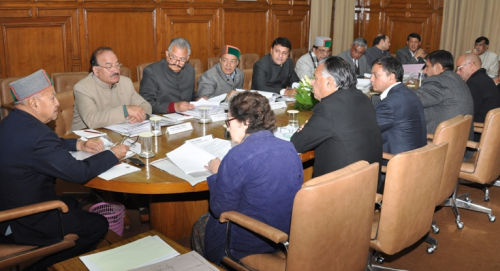 In the Himachal Pradesh Cabinet meeting, which was held under Chief Minister Virbhadra Singh, Cabinet has given approval to provide free traveling facility to all the students of government schools in Himachal Road Transport Corporation (HRTC) buses. This decision will be effected from 1st April, 2013. This announcement was made by the Chief Minister on 25th January, 2013 on the occasion of State level function of Statehood Day at Sunni in district Shimla.
The Cabinet also approved Vision Document for Manali agglomeration and its sub region making it an integral part of Development Plan for Manali Agglomeration of Kullu Valley Planning Area. It gave nod to give relaxation to Ropeway building, Jakhu, Shimla regarding Base and Top Stations after receiving the applicable penalty under Himachal Pradesh Municipal Corporation Act, 1994 from them.
Cabinet gave its approval to place Supplementary Demands for grants amounting to Rs.870.16 crore for the year 2012-13 before the Himachal Pradesh Vidhan Sabha in the coming session. Excise Policy for the year 2013-14 was also approved in the meeting.
It was decided in the meeting that all the Rain Shelters on the road sides would be brought under the control of Transport Department so as to ensure their proper use and maintenance.
Cabinet gave its approval to enhance the remuneration of part time workers/sweepers of Health Department from Rs. 1100 per month to Rs. 1300 per month.
It approved to fill up three posts of Professors and two Posts of Assistant Professors in Himachal Pradesh Government Dental College Shimla through direct recruitment, 19 posts of various categories reserved for persons with disabilities on contract basis in Horticulture Department, creation of three posts of Sanitary Inspectors in Municipal Corporation, Shimla, creation of four posts of Kanungo on supernumerary basis in Revenue Department, filling up two vacant posts of Junior Scale Stenographer in Department of Advocate General and one post of Driver on contract basis in Tribal Development Department.
It approved Recruitment and Promotion Rules for Senior Ayurvedic Chikitsak (Specialist) (Class-I Gazetted) in Ayurveda Department.
The Cabinet gave its approval to engage NIELIT, Chandigarh, a Government Service Provider Agency for providing IT education to the students of Plus one and Plus two classes in the State.
Cabinet gave its approval for inserting Rule 5A and 5B after Rule 5 of Right of Children to Free and Compulsory Education, Himachal Pradesh Rules, 2011. This will help disadvantage groups and weaker sections of the society in getting their children admitted to privately managed aided and un-aided schools.
It was decided to provide 39 kg of wheat, 29 kg of rice per month to additional selected BPL families and 23 kg of wheat and 17 kg of rice to Antodaya families of District Chamba and 30 kg of wheat and 22 kg of rice to Antodaya families of District Sirmaur from January, 2013 to May, 2013.
Cabinet gave its approval to create one post of Member in Himachal Pradesh Private Educational Institution Regulatory Commission.
The Cabinet also reviewed the decisions taken by previous BJP Government during their last six months.