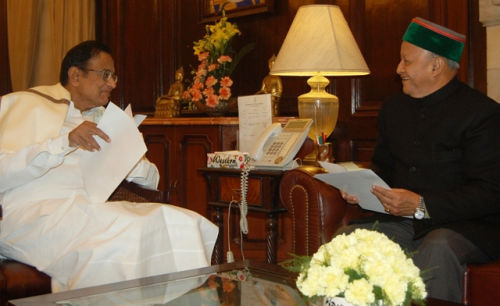 Himachal Pradesh Chief Minister Virbhadra Singh called on Union Finance Minister P. Chidambaram in New Delhi and requested the Union Government to sanction special economic package of Rs. 7,565 crore to tide over difficult financial situation in the State.
Virbhadra Singh apprised Union Finance Minister with the current position of State's and said that thirteenth Finance Commission had misjudged the committed liabilities of the State Government as a result of which the gap in committed liabilities of the State Government in terms of pension, salaries and interest had been Rs. 3,522 crore during the year 2012-13 which would increase to Rs. 4,043 crore during the year 2013- 14.
Chief Minister requested the Union Finance Minister to restore the reduction of in Special Central Assistance allocation of Rs. 106 crore for the current financial year.
He demanded that all centrally sponsored schemes should be uniformly funded in the ratio of 90:10 for all special category states and said that at present the funding under Sarv Shiksha Abhiyan, Mid Day Meal Schemes, Indira Awas Yojna, Rashtriya Madhyamik Shiksha Abhiyan, Swaran Jayanti Gram Swarojgar Yojna, Nutritional Component of ICDS and ambulance service under NHM was 65%, 75%, 75%, 75%, 75%, 50% and 20% respectively. He said that provision in these services to the Himachal was less in comparison to other North East States and requested the Union Minister to provide funding in all these schemes on pattern of North East States.
Virbhadra Singh requested the Union Government to restore the special industrial package to the State till 2020 and said that discontinuation of special package of industrial incentive was adversely impacting the industrial growth and employment opportunities in the State.
Union Finance Minister P. Chidambaram assured that Union Government would provide liberal financial assistance to the State Government to expedite the development process in the State.