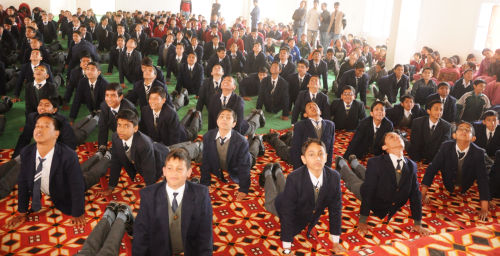 As a part of Swami Vivekananda's 150th birth anniversary celebrations, a 'Surya Namaskar' was organized at Solan today, in which more than 500 students of various schools and colleges of Solan participated and performed 'Surya Namaskar.' This 'Surya Namaskar' was organised in auditorium of Sanskrit College, Solan.
The President of Dev Bhumi Trust of Sadhupul, Swami Shivasevanand and educationist Uday Mittal inaugurated the function by lighting the lamps. Chief Guest of the function Swami Shivasevanand appreciated the efforts of the teachers of schools and colleges. He detailed out the importance of Surya Namaskar to the students and termed it as one of the best physical exercises in the world which help to improve physical and mental health.
The guest of honour Uday Mittal also addressed participants and emphasized on the teachings of Swami Vivekanand. He said that teachings of Vivekananda of truth, purity and unselfishness as traits helps to strengthen the mind and are still useful in this fast changing world. He advised students to read the teaching of Swami Vivekanand and added that it would help students with self-confidence.