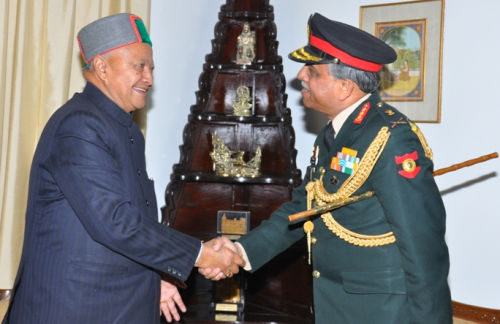 Lt. General Sanjiv Chachra, AVSM, VSM, General Officer Commanding-in-Chief, Western Command, Chandi Mandir met Chief Minister Virbhadra Singh, here today. Chief Minister honoured Lt. General Sanjiv Chachra by presenting Himachali Cap, Shawl and Memento.
During the courtesy meeting, Lt. General Chachra discussed various issues of mutual understanding and concern. He raised the issue of jobs for Ex servicemen and said that a large number of qualified and skilled Ex servicemen were available in the State who could make a worthwhile contribution in the growth and development of the State.
He requested Chief Minister to expedite the matter regarding land acquisition for early development of a Military Station in Una in Himachal Pradesh. He also laid stress upon the criticality of Annandale Ground for operations of Army along the Northern borders as also for any unforeseen disaster relief contingency operations.
Chief Minister said that all the issues raised during the meeting would be considered sympathetically and necessary steps would be taken in this regard. He assured the Army Commander that status quo would be maintained in respect of Annandale Ground and Government would consider to withdraw the ongoing Arbitration proceedings keeping in view the importance of Annandale Ground.