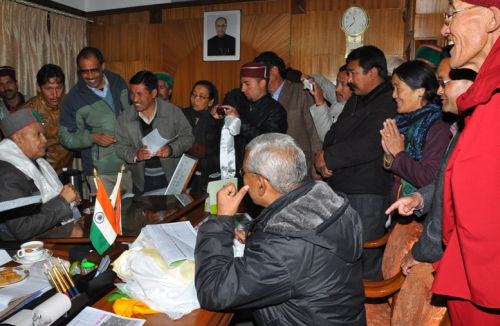 A delegation of Lahaul & Spiti district called on Chief Minister Virbhadra Singh here today under chairmanship of newly elected MLA Ravi Thakur.
Ravi Thakur congratulated Virbhadra Singh on becoming Chief Minister of the State for the record sixth time. He said that State would attain new heights in every field under the able guidance and leadership of Virbhadra Singh.
Delegation requested the Chief Minister to provide frequent helicopter services for Lahaul & Spiti district especially for patients and old people for all the 14 helipads of Lahaul & Spiti in winter season.
They also demanded that tribal bhawan in Dhalli near Shimla should be operated by Tribal Development Department instead of contractor or society so as to facilitate the tribal people visiting Shimla.
Ravi Thakur and other members of delegation thanked the Chief Minister for appointing C.D. Thakur who hails from Lahaul & Spiti district as Director, Information and Public Relations which was the key department in making people aware about the various welfare policies and programmes of the Government and providing the necessary feedback to the Government.
Raghubir Thakur, Ex MLA, Sonam Lama, Ex Pradhan Keylong, Tashi, Ex Pradhan, Poh, Nawang, Ex Director, Lahaul Potato Society, Pintoo, Ex Pradhan, Pin valley, Sohan Singh, Ex Pradhan, Kaza, nuns and monks of Dhankar Monastery and other were present on the occasion