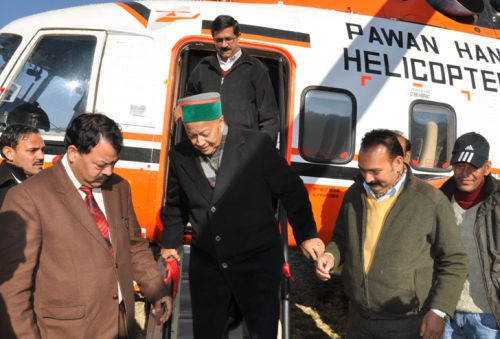 To cater the demand of people of Tribal Areas which mainly remain cut-off during the harsh winter season, Chief Minister Virbhadra Singh launched the helicopter services of M/s Pawan Hans at Annadale ground, here today.
The helicopter will head to its maiden flight to Dodra Kwar on 8th January, 2013. The 26 seater Chopper would be of great use to the Tribal people for bringing them to and fro from tribal areas, mainly Pangi in district Chamba, Lahaul & Spiti district and hard areas of Dodra Kwar in district Shimla besides Kinnaur which remain cut-off from rest of the world due to heavy snowfall.
To hire the helicopter services of M/s Pawan Hans for Tribal Areas, a cabinet has passed its recently and the State Government can also uses the helicopter services for evacuation of stranded tourists, who get struck while venturing out in harsh weather condition.
Bharat Khera, Secretary GAD, J.C. Chauhan, Principal Private Secretary to the Chief Minister, Dinesh Malhotra, Deputy Commissioner, Shimla and other officers of the State Government were present on the occasion.