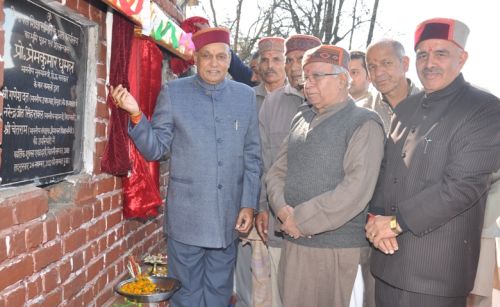 Chief Minister Prem Kumar Dhumal laid foundation stone of Thakur Ram Singh Hostel in Sarasvati Vidya Mandir School and State Office of Himachal Shiksha Samiti at Him Rashmi Parisar, Vikasnagar here today.
Speaking on the occasion, he emphasised the need to inculcate moral values in the students so as to make them good citizens of the Nation. He said that the need of the hour was to change our basic attitude towards the education in the larger interest of the country. He said that education played a pivotal role in all round development of any individual and making him a responsive citizen.
He congratulated the Vidya Bharati and Saraswati Vidya Mandir for imparting quality education to the students and said that students were the mirror of any educational institution and act as ambassadors. Chief Minister also released Annual Magazine 'Him Garima' on the occasion.
Ganesh Dutt, Vice Chairman, HIMUDA urged the people to donate liberally for construction of Thakur Ram Singh Hostel and said that this institution had emerged as Centre of Excellence during past few years.
Narender Jeet Singh Rawal, General Secretary, Vidya Bharati said that Vidya Bharati was running 16000 educational institutions in the country and it was the aim of this organization to impart quality education based on cultural and moral values.
Mahavir Verma, Principal, Sarasvati Vidya Mandir Senior Secondary School, Vikasnagar detailed out activities of the School. Chet Ram, Patronage, Himchal Shiksha Samiti, Members of School Management and senior officers were present on the occasion.