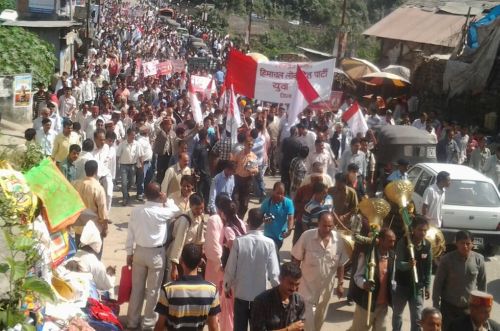 Himachal Lokhit Party (HLP) holds its rally at Mandi, which was attended by hundreds of its supporter. HLP leaders Maheshwar Singh, Shyama Sharma, Mohinder Sofat, KD Dharmani, Naveen Dhiman, BR Mandyal, Tikku Thakur, Dulo Ram and Harish Chander Sharma attended the rally.
While addressing the supporters HLP accused Chief Minister PK Dhumal and former Congress president Kaul Singh Thakur of a tacit understanding on the issue of corruption. HLP leaders asserted that the people would come out openly against the Bharatiya Janata Party (BJP) and the Congress by electing a third front.
Maheshwar Singh accused the BJP Govt of misusing the name of former Prime Minister Atal Bihari Vajpayee to hide its incompetence. Singh alleged that in Dhumal tenure development of State has come to standstill. Conditions of roads are bad and Govt has failed to give proper facilities in all sectors including health, education. He alleged that state Govt has encouraged the land mafias and sold a considerable volume of land to outsiders. He accused Chief Minister for inaugurating incomplete projects and added that ministers laid foundation stones of projects for which there were no budget provisions.
Maheshwar Singh said the HLP would release its manifesto soon, in which the top priority would be given to the welfare of the common man.
Shyama Sharma claimed that the BJP had become a party of liars and Shanta Kumar was isolated. She alleged that BJP leaders had become property dealers. The HLP was the first party to release its vision document, she asserted. HLP vice-president KD Dharmani alleged that BJP leaders Dhumal and JP Nadda were promoting members of their families by giving them important posts. Other leaders also spoke on the occasion.