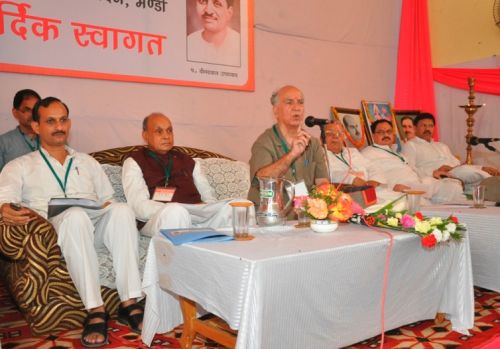 In the function 'Mukhya Mantri Ki Shaam Mandi Ke Karamchariyon Ke Naam' organized in honour of the Chief Minister, by the employees to thank him for all the benefits given to them during past four and half years, at Mandi, CM claimed that the present State Government has done its best to safeguard the interests of the employees by giving their dues from time to time within the resources available and added that it was for the first time in the State that Government and its employees had cordial relations.
Chief Minister said that special increments had been sanctioned for employees of stagnated categories of driver and peon on completion of 20 years which had benefited 80,000 employees in the State. He said that a number of pending demands of different categories includes release of 4-9-14 increment benefit had been fulfilled thereby benefiting all categories of employees in the State.
Prof. Dhumal said that the State had emerged a role model at national and international level due to the hard work put in by the State employees in implementing policies and programmes of the State government. He said that the issue of exempting JBTs of TET test had been taken many times with the Government of India but the UPA Government had turned down the request of the State Government on the ground that it was national policy. He said that the State Government was making all out efforts to facilitate every category of employees engaged on contract, daily wage and part time.
Chief Minister said that no stone would be left unturned to protect the interests of the employees in the State. He appealed to the employees to rededicate themselves for providing best services to the people especially common man. He said that preceding government had not only victimized employees leaders but harassed them mentally as well. He said that the present State Government was an employee friendly government.
Chief Minister thanked NGOs for the honour they had extended to him by organising 'Mukhya Mantri Ki Shaam Mandi Ke Karamchariyon Ke Naam' in his honour which definitely will inspire him to do better for the development of the State and benefit all sections of the society. He congratulated members of NGO Federation for electing perfect leaders to protect their interests.
Ghanshyam Sharma, Vice Chairman, State Employees and Pensioner's Welfare Board, said that it was for the first time that employees and pensioners had been given all benefits due to them simultaneously. He said that it was the vision of BJP Government that Employees and Pensioners Welfare Board had been constituted to provide a direct link between employees and the Government. He said that interests of State Employees were safe in the hands of Prof. Prem Kumar Dhumal and urged employees give their wholehearted cooperation to the Government to achieve the objectives for which it was dedicated.
Surender Thakur, State President, NGO's Federation, thanked Chief Minister for creating maximum employment avenues to educated unemployed youth besides ban imposed by the UPA Government on fresh recruitments and said that the preceding government had failed to provide any employment to the youth. He also thanked him for uniform policy for compassionate employment. He said that low paid employees had been taken special care of by the state government. He counted various decisions made by the State Government recently in favour of employees.
N.R.Thakur, President, District Mandi NGO's Federation, welcomed the Chief Minister and said that it was a proud moment for NGOs of district Mandi. He said that almost all demands of state employees had been fulfilled and Himachal Pradesh happened to be the first state in the country which had released entire pay arrear to its employees. He said that regular meeting of JCC had been instrumental in resolving the issues between government and employees.
Gulab Singh Thakur, Public Works and Revenue Minister, Ravinder Singh Ravi, IPH Minister, Jai Ram Thakur, Rural Development and Panchayati Raj Minister, Roop Singh Thakur, MLA, Joginder Verma, Chairman, HP Construction Workers Welfare Board, Praveen Sharma, Secretary, HP State BJP, Dev Raj Sharma, President, Bhartiya Mazdoor Sangh and other senior officers and representatives of employees of various units of NGOs, and others were present on the occasion among others.