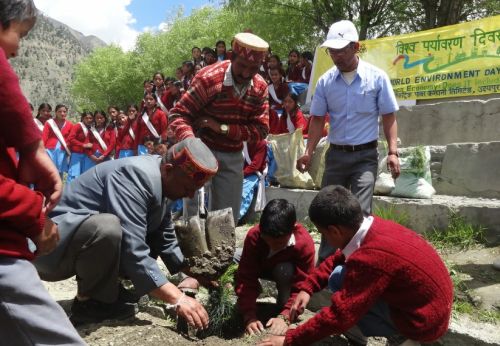 The Hydro arm of Moser Baer Projects, one of the leading renewable energy developers in India, engaged in developing hydro electric projects at Lahaul & Spiti, organised a slew of activities to commemorate the World Environment Day in Lahaul valley today.
The activities, organised as a part of the company's EECHO (Education, Environment, Community Development, Health & Hygiene and others) campaign, comprised of plantation drive, quiz and painting competitions and working model exhibition for school children.
As part of its ongoing afforestation drive, since August, 2011 the company has already planted around 4000 trees across 3.5 hectares of forest area of the valley. Above 20 Deodar trees were symbolically planted on the World Environment Day in Tindi, Udaipur, Triloknath and Chemrat villages with the help of the forest department, the gram pradhans and environmentalists namely Pushp Kumar- Forest Range Officer Udaipur, Champa Devi- Gram Pradhan Tindi, Shamsher Singh Shangpa- gram pradhan Udaipur, Amar Lal- gram pradhan Triloknath, Prem Dassi- gram pradhan Chemrat and Tok Chand Thakur- Director- Himalayan Paryavaran Evam Vanya Prani Suraksha Samiti, Lahaul & Spiti- Tindi.
More than 80 students from Tindi, Udaipur, Triloknath, Chimret, Shakoli and Madgran villages participated in the inter-school quiz, painting and working model competitions organised at various schools in the region. The quiz competition, organised between more than 30 students of class 6th to 12th from, helped to further strengthen awareness about the environment amongst the participants and the audience.
Students, from class 6th to 8th, participated in the painting competition based on the theme- "Pradooshan ki badhti samasya" which gave them a platform to showcase their viewpoints and creativity on canvas. The working model exhibition, turned out to be one-of-its kind event and saw an overwhelming participation from students studying in classes 9th-12th. They surprised all with their aptitude and insight on 'non-conventional sources of energy'. The winners were felicitated by the gram pradhans.
During the occasion, Senior Vice President-Hydro, Moser Baer Projects S. K Khare said that "We recognize the importance of environment and will continue to put in efforts to make Lahaul greener and more environmentally conscious. We are committed to continue generating awareness and add value to other important social and economical aspects like health infrastructure, education, health, community development, etc. in the region, the results of which will be visible in the coming few years. I sincerely thank all gram pradhans, villagers and govt. officials for constantly engaging with us towards implementation of these initiatives of the company for the overall development of the company."