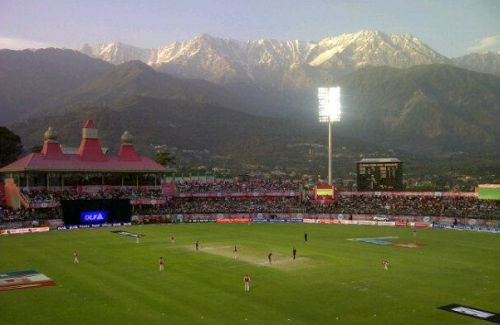 Dharamshala's HPCA cricket stadium by virtue of the Dhulladhar range, of the Himalayas, in the backdrop, makes for one of the finest cricket stadium in the world. So much so that some cricketing pundits have gone on to debate, which amid the DCS (Dharamshala Cricket Stadium) and/or the Lord's Cricket Stadium (regarded as Macca of cricket), is the better cricket stadium in the world?
The Himachal Pradesh Cricket Association's Dharamshala Cricket Stadium has received international reputation from the ICC and will host its first international fixture between England and India in January 2013. Currently however, besides being the home ground to the Himachal Pradesh state cricket team, the DCS is also IPL team Kings XI Punjab's second home ground.
People of Dharamshala, or say Himachal for that matter, have really become enthusiastic about IPL and the Kings XI Punjab, a team that here people are treating as their own, like the Punjabi's themselves. People have turned out in numbers over the years to cheer and support their team. The house is packed for all the two games that are scheduled here in the IPL itinerary. Kings XI Punjab's skipper and mentor, Australia's Adam Gilchrist has been the most accepted face that has led the Kings XI team to glorious heights, and has got people from both Himachal and Punjab (of course) to come out and cheer for their teams and have faith in their boys.
This year's IPL games at the picturesque DCS were no different, people turned out in full capacity. The pitch here played to international standards, and the natural conditions and the grassy nature of the pitch, didn't ever let the batsmen have it their way, despite the smaller boundaries (compared with other venues) they had to negotiate. As a result the games remained low scoring, with one turning in Kings XI's favour and the other playing against their will, thus ending the teams IPL campaign and their hopes of making it to the playoffs this year.