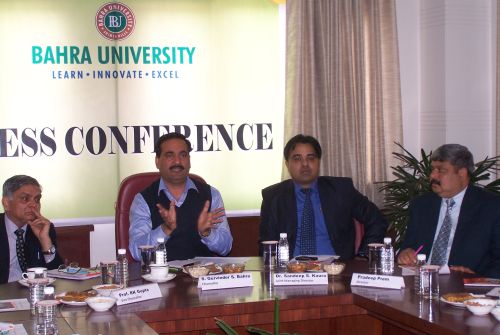 Bahra University has inked pact with California State University, a University with the largest number of graduate and under graduate courses. California University is located in Orange County, a technologically rich and culturally vibrant area of metropolitan Los Angeles and provides undergraduate and graduate programs to students from over 80 countries, CSUF was founded in 1957 and presently holds 36000 students.
Chancellor Bahra University S. Gurvinder Singh Bahra said that the aim of Bahra University is to impart education that meets international standards and this MOU is a concrete step towards that direction. With this agreement between the two Universities the students of Bahra University would complete the first three years of an undergraduate program at Bahra in Computer Science and Electronics and Electrical engineering and complete the fourth year through the University Semester Aboard ("USA") program at CSUF. He said that normally an international student in this University pays around
10,000 to12,000 Dollars as the fee but under this MoU the students of Bahra University will pay the fees equal to local students of US that is around 5000 dollars.
For the first year effective under this Agreement, the Program would allow up to 40 student participants from Bahra and for each subsequent year, total number of students allowed would be determined again based on mutual agreement of the parties, said Mr. Bahra. He further informed that Bahra University would provide necessary counseling and other assistance to visiting students before departing for CSUF
Dr Sandeep Singh Kaura, JMD Rayat Bahra Group said that CSUF is highly ranked University having 6th Rank in Top universities of US and No 1 in the state of California, He further added that after this association with CSUF, Bahra University have brought the name of Himachal Pradesh as an International center of learning on global Map.
Dr RK Gupta Vice Chancellor said that all students who are studying in Bahra University can go for this program from next semester onwards; He also congratulated the Staff and the students for this wonderful association.