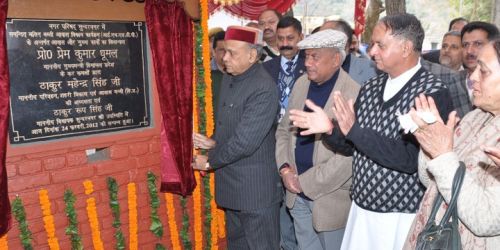 Chief Minister Prem Kumar Dhumal inaugurated and performed the foundation stone laying ceremony of developmental works worth Rs. 7.30 crore in Gagret constituency. He inaugurated Rs. 1.27 crore parking lot at Nagar Panchayat Gagret. He dedicated Rs. 1.52 crore bridge at Pirthipur-Saloh-Joh road, Rs. 70 lakh Ganu-Mandwara drinking water supply scheme. He also inspected the newly built bus stand at Gagret. He performed the foundation stone laying ceremony of 3.6 km. Gagret-Oyal-Ispur link road being built from Uperli Loharli to Secondary School, Khad Gujran village, Kuthera Jaswalal at Rs. 206 lakh and 3.2 km. road from bus stand at Ambota village to Nagnath temple being built at a cost of Rs. 176.19 lakh.
Chief Minister said that these milestones would mark beginning of a new chapter in the development of this area. He reiterated the resolve of the State Government of providing drinking water to every village and household and connecting every village with roads.
Satpal Singh Satti, Virender Kanwar, Chief Parliamentary Secretaries, Balbir Chaudhary, MLA, Praveen Sharma, Vice Chairman, Water Management Board, Santosh Saini, Chairperson, HIMFED, Vijay Rana, Vice President, State BJP, Balbir Bagga, State BJP SC Morcha, Rani Ranaut, Chairperson Zila Parishad and other prominent persons and senior officers of the State Government were present on the occasion.