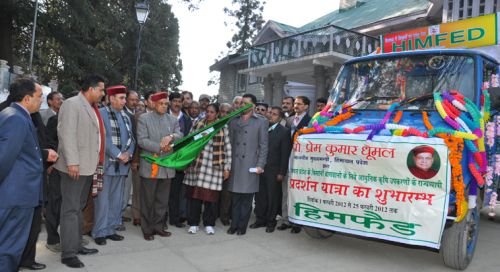 Chief Minister Prem Kumar Dhumal today launched supply of power operated tillers, cultivators, grass cutters and crop cutters, on subsidized rates to the farmers of the State besides flagging off exhibition van demonstrating modern machinery in different parts of the State, from his official residence here today.
Chief Minister congratulated HIMFED for launching of unique and much awaited quality farming equipment and implements to mechanize farming activities with efficient delivery of services. He said that HIMFED had entered into an agreement with TEXAS Company, Denmark, for procurement of high quality machinery and equipments which would be available to the farmers on subsidized costs. He said that HIMFED had been closely associated with the farming community and had been supplying fertilizers, insecticides, pesticides, organic manure and now farming machinery as well in every nook and corner of the State through a strong knit network of field offices and godowns/outlets etc. He said that keeping in view the necessity of diversification of the activities of the public sector undertakings for income generating to overcome the financial crunch, such activities were being promoted. He said that the farmers in the State had small holdings in terraced fields at varied altitude. He said that in the wake of less returns compared to the labour put in, farmers were abandoning their basic avocation of agriculture. He said that with the introduction of the efficient machinery rural youth would be attracted to revive their traditional avocation thereby generating employment and self employment avenues to them at their door steps.
Prof. Dhumal said that HIMFED had been earning good income through its different marketing activities and with the inclusion of marketing of the quality imported farm equipments, more income would be added to the Federation. He said that the proposed machinery had successfully been tested and was in use in over 25 countries all over the world and were easy to handle by farmers themselves where no extra labour would be required. He said that horticulture had been playing significant part in giving boost to the State Gross Domestic Product and the modern tools would be of immense use to horticulturists as well. He said that such tools would help in increasing productivity and thereby generate additional income to them. He directed HIMFED authorities to launch extensive drive of demonstration and awareness amongst the farmers to communicate and educate them about the modern mechanization of farming in the State. He hoped that with the modernization of farming Himachal Pradesh would make its mark in agriculture sector as well.
Chief Minister also purchased one power tiller for his personal use. Chief Minister was also presented a draft of Rs. 31,000 as contribution towards Chief Minister's Relief Fund. Santosh Saini, Chairperson, HIMFED, welcomed the Chief Minister and said that HIMFED was making rapid strides on all fronts and serving farming community in different parts of the state through its well knit network of extensions.
Capt. J.M.Pathania, Managing Director, briefed Chief Minister about the capacity and benefit of the new machinery. He said that agriculture and horticulture activities would get revolutionized with the modernization of the traditional avocation of hill people where small machinery was of immense use to farming community. He said that all enquiries relating to the machinery and equipments could be solicited at his personal mobile 9418467658 and land line 0177-72657580 besides all areas offices and retail outlets in different parts of the State. Narinder Bragta, Horticulture Minister, other senior officers and public representatives were also present on the occasion.