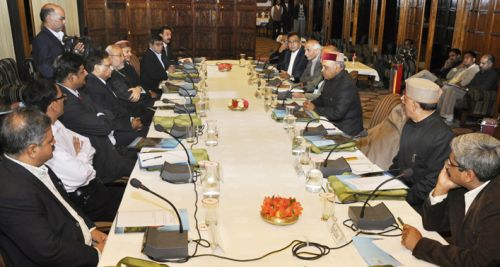 Chief Minister Prem Kumar Dhumal has emphasized the importance of media in dissemination of information and said that it also helps masses at large as they get knowledge of various aspects. Chief Minister said it in the HP State Level Press Advisory Committee (HPPAC) Meeting. He said that the role of media in disseminating policies of any organization becomes all the more important as people were benefitted from them at large.
Chief Minister thanked the editors of various newspapers for projecting the States perspective from time to time. He said that he himself as well as the State Government takes the analysis and comments of the press as a guiding factor and had been taking corrective measures also from time to time. Chief Minister apprised the editors of the development that had taken place in the State from time to time and the perspective plan of the government to take Himachal Pradesh towards prosperity. Prof. Dhumal said that the State had made its mark at the International level in getting the world's biggest Carbon Credit pact signed with the World Bank. He said that the environment aspect had been dear to the Government and various effective initiatives had been taken in this direction which included imposing complete ban on green felling, use of plastic carry bags, cups and plates etc. and making Shimla a smoke free town.
Chief Secretary, Rajwant Sandhu and the Director General of Police, Dr. D.S. Manhas also gave details of various aspects of the State in this matter. B.D.Sharma, Director of Information and Public Relations, welcoming the Chief Minister gave details of the follow-up of the decisions taken in last meeting of HPPAC. Vipin Pubby, Resident Editor, Indian Express, Ramesh Vinayak, Resident Editor, Hindustan Times, Raja Bose, Resident Editor, Times of India, Nishi Kant Thakur, Editor, Dainik Jagaran, Irwin Khanna, Editor, Uttam Hindu, Vishwakirti, Editor, Hindi Milap, Mukesh, Resident Editor, Jansatta, Surender Singh Hudda, Editor, Pehli Khabar, Girish Gururani, Resident Editor, Amar Ujala, Chetan Sharda, Resident Editor, Dainik Bhaskar and Ganesh Dutt, Editor, Monal Times gave their valuable suggestion while participating in the deliberation.