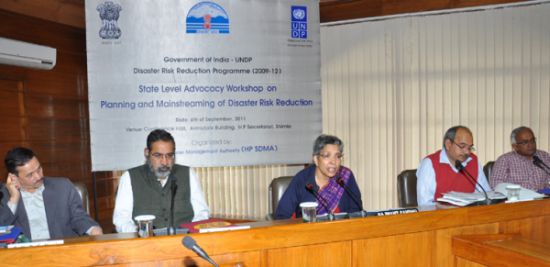 Chief Secretary Rajwant Sandhu said that strict measures should be taken to prevent pucca constructions in flood plains besides adhering to safety standards while constructing buildings on slopes to reduce losses to life and property as Himachal Pradesh was prone to floods, landslides and earthquakes. She emphasized upon the necessity to integrate Disaster Risk Reduction ( DRR) in the development plans of all departments.
She was addressing a State level Advocacy Workshop on Planning and Mainstreaming of Disaster Risk Reduction( DRR) under Government of India – United Nations Development Programme ( UNDP ) organized by the H.P. State Disaster Management Authority here today.
Rajwant Sandhu said that flood plains could be utilized for economic activities like cultivation etc but construction of houses especially pucca buildings in these areas could prove hazardous to life and property. She stressed upon the need to make people aware of the risks involved in construction of houses on slopes and other unsafe areas without taking into account proper precautionary measures. She said that knowledge should be disseminated up to district, block and village levels about preventions to avert fire accidents etc.
Chief Secretary said that earthquake resistant technology should be adopted while constructing buildings especially schools and hospitals and added that Public Works Department was adhering to this safety measure in all its constructions. She said that efforts should be made to allocate funds for old buildings too. She underlined the importance of undertaking mock drills and distributing pamphlets in schools and all departments regularly to strengthen response mechanism and capacity building. Gram Sabhas could prove to be effective platforms for generating awareness in this regard, she added.
Principal Secretary Revenue Deepak Sanan, while welcoming the Chief Secretary outlined the objectives of the workshop. The issues of mainstreaming and integration of (DRR) would be discussed and strategies finalized in the workshop mainly for Health, Education and Rural Development sectors, he informed.
G.Padmanabhan, Emergency Analyst UNDP, Hari Kumar, National Co-ordinator Geohazard International New Delhi, D.C.Rana, State Project Officer UNDP, Sarat Kumar Das, State Project Officer UNDP Tripura also gave presentations on the subject.
P.C.Dhiman Principal Secretary Home, SKBS Negi Principal Secretary Rural Development, Ali Raza Rizvi, Secretary Health, Head of Departments and Senior Officers of the State Government attended the workshop.