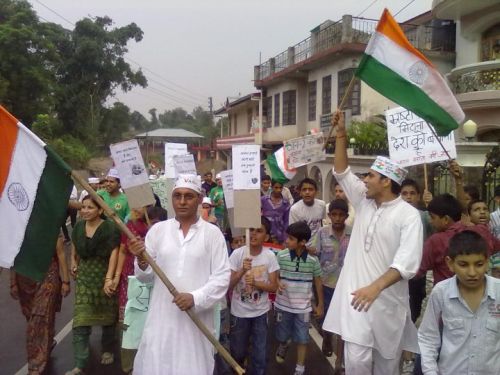 Anna Hazare led movement is picking a momentum in Himachal Pradesh. Even in every town many people are protesting against the central government reluctance to implement strong Jan Lok Pal. In Palampur young Rajeev Jamwal is fasting and his fast has enter in ninth day and protestors in Shimla also sitting on fast at various places.
At Manali, youths on Tuesday gathered at goddess Hadimba temple and prayed for the good health of Anna. Thousands of school, college students in Kullu, Manali, Mandi, Sarkaghat, Sundernagar, Jogindernagar, Hamirpur, Una, Bilaspur, Shimla, Kangra and other towns and cities of the Himchal are demonstrating for Anna Hazare and his crusade against corruption.
It seems that Anna Hazare led movement has united youth in the state and political parties cannot say that particular political outfit is trying to cash from the protest. This is the time when these political parties should raise above from their political and financial gain and should show their supporter that they are really keen to work for the society and its betterment.