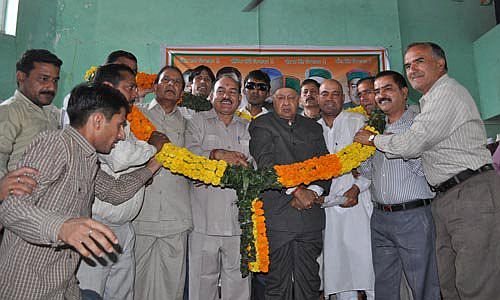 Union Minister of Micro, Small & Medium Enterprises and Ex- Chief Minister, Himachal Pradesh Virbhadra Singh lashed out at the ruling BJP government and said that he is in great pain after knowing that the entire Himachal Pradesh is put up for sale by this present Govt. He seems confident for his wining the forthcoming assembly election and declares that congress will prove all the benami (illegal) property deals being executed by the BJP government.
Recently opposition has attacked ruling party for the allotting the land for the private university and termed it against the people as out of ten private universities only two are affiliated from the UGC. Dhumal led government is also criticises for its stand for the Sundernagar cement plant that is facing heat for the allotment of land, despite environmentalists' and general public's repeated objection.
Recently President Himachal Pradesh Congress Committee Kaul Singh Thakur also blames present government for the ecotourism scams as he alleges sites that are inside the dense forest are allotting for the private players at cheap prices. Prior it Kaul Singh Thakur also alleges state government to misusing the central funds. Leader of opposition Vidya Stokes also targeted government in the ongoing assembly and blames them for the corruption and misusing the funds.