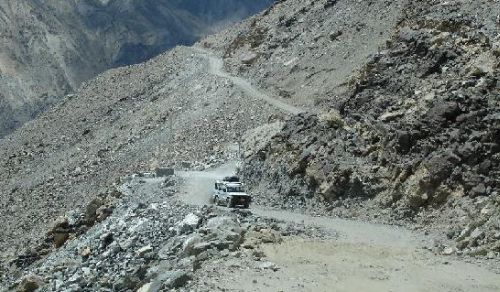 NABARD has sanctioned 32 Road and Bridge Projects worth Rs.72.71 Crore for the state recently. Out of these sanctioned projects 22 are road projects and 10 are bridge projects. The sanctioned road projects are link road from Dhaun Bani-Malkri Khalot-Lamlu-Salaon-Bum-Jahu road and Jarora-Ket-Naswal Matoli-Kassaru road in Ghumarwin, link road from Gharan to Dera Parol via Darobari Bhadru in Bamsan and Jole to Upper Hareta road via Sangahara-Biar-Tangol Raien-Kohlwin-Laniana-Gandoli-Barayan-Tal Roproo-Satpura-Lower Hareta in Nadaunta, balance work of road from Dehrain to Paisa in Jawalamukhi, Kodu-Bela-Thathi-Haler road in Jawali, balance work of Baglamukhi temple to Naushera road in Jaswan, balance work of Kona-Pihri-Nallian road in Thural, road from Tamloh to Bharanta and from Mundhi to Lahroo via Sipanpat in Sullah, Kelodhar-Parwara road and Pendapani road via Karsut in Chachiot, mettling work of Chanoun-Galoo-Sadyana-Kot road in Mandi, Bainsh-Shakelar road in Karsog, Balance work of Podhar-Mandori road and up-gradation of Jagothi Nallah-Androuti road in Rohru, balance work of Solan-Meenus road in Renuka, balance work of Jhamaria-Ramadhon-Dhagera-Jainthal Ghat road in Nahan, mettling work of Bhatt Ki Hatti- Rampur-Kuthad road in Doon, balance work of Tikkari-Talanji-Lakhoti road, improvement of Salogra-Ashwani Khad road in Solan and Shaeed Sudesh Marg-Subhathu to Kothi Chapla village in Kasauli.
Whereas 10 sanctioned bridges are Chamba-Saho road at Sangera nallah and Kahala Nallah in Chamba, over Sangri Khad on Kasiri Mahadev-Duhak-Chhatruru road in Hamirpur, on Gudhwin khad on Gasota-Kehdru road in Bamsan, over Mangwal Khad on Rait head-Kandrori-Pucca Tiala road in Gangath, over Sukhad khad on Kholi-Simbal Khola road in Kangra, over Leod Nallah on Bhaled-Kakra Dulli-Chamiara road in Shahpur, over Manjhi Khad on Chetru to Maned Passu Sukkar road in Dharamshala, over Bakhli Khad at Chari on Thunag- Jainshala-Patakri road in Chachiot, over Jeuni Khad on Sainj-Bara road and one bridge over Jeuni Khad on Khandal-Nandi road in Nachan.
To avoid the traffic congestion state government is constructing by-passes roads in Hamirpur Palampur and in Kufri and also planning to construct more by-passes in Sundernagar, Jogindernagar, Manali and Theog as traffic conjunction has became a part of day to day happening in these area.