Bankikhat: Chief Minister Jai Ram Thakur said that the Congress party and other Opposition leaders are baffled seeing massive public support BJP is getting across the country in these elections and its resolution to make Narendra Modi once again the Prime Minister.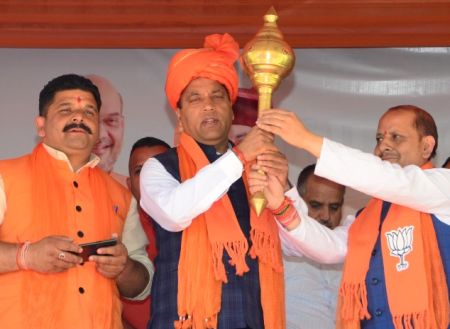 Jai Ram Thakur said it while addressing an election rally in Bankikhat in Dalhousie Assembly constituency of District Chamba today.
The Chief Minister said that under the leadership of the Prime Minister, the country has established new dimensions of development. He further added that the efficient policies and commendable development works of the Modi Government has ensured distinct identity of the country across the globe. He claimed
"In view of the unprecedented development, the country needs Modi government again because BJP's only priority is development while the Congress party has been always engaged in corruption."
He said that the leaders of the Opposition are in the race to become Prime Minister and they are trying to mislead the people to gain power. He said that the BJP does what it promises and believes in providing appropriate opportunities and respect to all sections of the society.
Jai Ram Thakur said that the Modi government has curbed corruption and has taken imperative steps to end terrorism. The Congress party has issued an anti-nation election manifesto in which many promises have been made which will not only weaken the strength of the soldiers but will also encourage the stone palters in Kashmir.
He said that this is not in the interest of the country and called upon the people to be aware of such disruptive forces and give them a befitting reply in these Lok Sabha elections.