379 meritorious students conferred degree at Agri varsity
Palampur: As many as 379 students of Chawdhary Sarvan Kumar Horticulture University, Palampur were conferred degrees in different streams by Governor Acharya Devvrat during a function organised today in the University. Eight outstanding students of the University were awarded Gold Medals and all the eight students are girls. Governor gave awards to these meritorious students.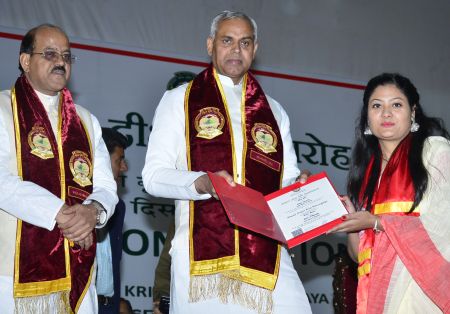 Addressing students on this occasion Governor asked the budding agri scientists to conduct research with new approach to tackle environment, water and soil issues and develop such techniques which will be in consonance with nature and environment. He said re-orientation of research work is requirement of the day and the alternative lies with natural agri practices.
He said organic carbon content of the soil is required to be enhanced and scientists should come with new methods to enrich soil. He said research by scientists in natural farming will bring positive results. The income of farmer can be enhanced only with natural farming.
He lauded efforts of Horticulture and Agriculture University of the state for conducting research work on natural farming. Research on local seeds will reduce cost on seed production and availability of disease free agri production in the country. He asked scientists to re-invent local seeds, local varieties to increase output in agriculture.
He said agriculture and education need constant care and attention and callousness can deserts the both. The skills learnt in Universities should be shared with others so that process of knowledge continued for benefit of humanity.
Member Parliament Shanta Kumar said that when organic farming could be successful in Sikkim, it was also possible in Himachal. He lauded efforts of Governor and the state government towards natural farming. He asked students to work hard in their chosen fields and profession.
Vice-Chancellor Prof. Ashok Sarial welcoming the Governor said that eight students of the University were selected as scientists, in Agri Research Service Exam. He said the University has made significant achievement, in developing innovative techniques for speed and high precision breeding in wheat.
Damini (B.Sc. Honrs.), Pallavi Chohan B.V.Sc, Divya B.Sc. (Hon.) Chandan Ravi B.Sc. (H.M), Vibhuti Sharma B.Tech. (Food Science), Diksha (B.Sc.) Anjali (PG) and Urvi Shasma (Phd.) got highest marks in their respective streams.
College Alumni Major Gen. (Retd.) D.V.S. Rana, Chairman HPPSC, Prof. Pradeep Kumar Sharma, V.C. (Sher-a-Kashmir Agri Technology Univ.), Prof. Vijay Pal Sharma, (Chairman, Commission for Agricultural costs and prices) were also honoured by the Governor.